When it comes to the deficit, Americans have endured a remarkably consistent pattern for four decades.
It starts with a Republican presidential candidate denouncing the deficit and vowing to balance the budget if elected. That Republican then takes office, abandons interest in the issue, and expresses indifference when the deficit becomes vastly larger. Then a Democrat takes office, at which point GOP lawmakers who didn't care at all about the deficit suddenly decide it's a critical issue that the new center-left president must immediately prioritize.
During the Democratic administration, the deficit invariably shrinks — a development Republicans tend to ignore — at which point the entire cycle starts over with a new round of national GOP candidates denouncing the deficit and vowing to balance the budget if elected.
A Roll Call report from Friday suggests the 40-year pattern remains intact.
Surging tax revenues as the U.S. economy rebounded from the coronavirus-driven downturn helped reduce the budget deficit for the fiscal year that ended Sept. 30, the Treasury Department and White House budget office announced Friday. The fiscal 2021 deficit clocked in at a still-massive $2.8 trillion, although that's down $360 billion from the previous year's shortfall and it's $897 billion less than the Biden administration predicted in February.
The article added that the deficit was smaller than expected thanks in part to tax receipts reaching their highest level as a share of the economy in 20 years. Treasury Secretary Janet Yellen said in a statement, "Today's joint budget statement is further evidence that America's economy is in the midst of a recovery."
To help contextualize the data, I put together this chart, with red columns from Republican administrations, blue columns from Democratic administrations, and red-and-blue columns from fiscal years that included both Republican and Democratic administrations.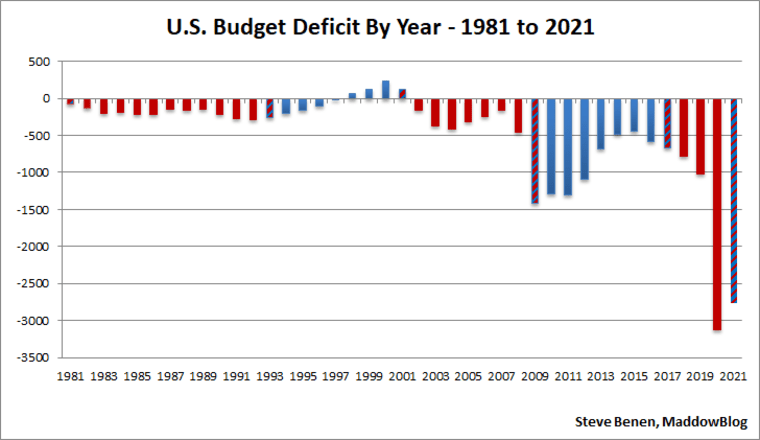 This isn't quite the picture Donald Trump had in mind. As regular readers may recall, in February 2016, the future president appeared on Fox News and assured viewers that, if he were president, he could start paying off the national debt "so easily." The Republican argued at the time that it would simply be a matter of looking at the country as "a profit-making corporation" instead of "a losing corporation."
A month later, in March 2016, Trump declared at a debate that he could cut trillions of dollars in spending by eliminating "waste, fraud, and abuse." Asked for a specific example, he said, "We're cutting Common Core." (Common Core is an education curriculum. It costs the federal government almost nothing.)
A month after that, in April 2016, Trump declared that he was confident that he could "get rid of" the entire multi-trillion-dollar debt "fairly quickly." Pressed to be more specific, the future president replied, "Well, I would say over a period of eight years."
By July 2016, he boasted that once his economic agenda was in place, "we'll start paying off that debt like water."
As The Washington Post's Catherine Rampell explained before the Covid-19 crisis, "Federal deficits have widened immensely under Trump's leadership. This is striking not only because he promised fiscal responsibility — at one time even pledging to eliminate the national debt within eight years — but also because it's a historical anomaly. Deficits usually narrow when the economy is good and we're not engaged in a major war.... Trump's own policies are to blame for this aberration."
That was plainly true. The White House and congressional Republicans swore up and down in late 2017 that they could slash taxes for the wealthy and big corporations without increasing the deficit because, as they repeatedly insisted, "tax cuts pay for themselves." We didn't need additional evidence that their ridiculous belief was, and is, wrong, but the evidence soon followed anyway.
And then, of course, the pandemic hit, at which point the deficit reached record levels.
The latest data shows the deficit shrinking once more, just in time for GOP officials and candidates to start pretending to care about the issue again.