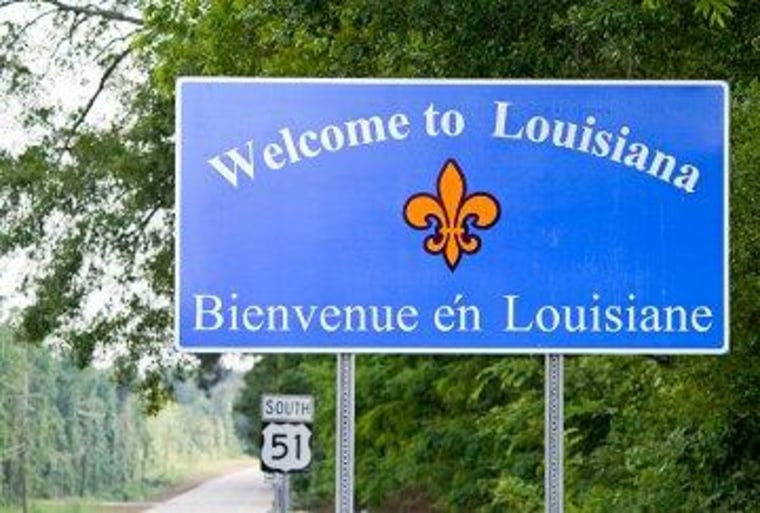 But once in a while, anti-sodomy laws return to the fore.
It was, after all, just last summer that Virginia's Ken Cuccinelli (R), at the time the state Attorney General,
fought in support of
an anti-sodomy measure that had already been struck down in the courts. This week in Louisiana, meanwhile, state lawmakers
protected
an anti-sodomy law that's already been deemed unconstitutional.
The Louisiana House of Representatives rejected legislation, on Tuesday, that would remove the state's symbolic ban on certain kinds of sodomy. The bill failed by a wide margin on a vote of 27-67, with 11 members not voting. Louisiana's anti-sodomy law was overturned and declared unconstitutional in 2003, with the U.S. Supreme Court ruling such state statutes could not be enforced. Still, the Legislature has been unwilling to officially strike the measure from state law, even though it can't be used as a cause for arrest. A House Committee passed the legislation onto the body's floor by a vote of 9-6 last week. But one of the state's most powerful lobbying groups, the conservative Christian Louisiana Family Forum, opposes striking the sodomy ban.
And in this case, the Louisiana Family Forum won.
Keep in mind, everyone involved realizes that Louisiana's anti-sodomy statute cannot legally be enforced. It's effectively legal window dressing -- it's just sitting there, serving no practical purpose. But rather than removing unenforceable clutter from their books, Louisiana's state House, with the overwhelming support of its Republican majority, agreed with the Louisiana Family Forum's assessment that the unconstitutional anti-sodomy statute is "consistent with the values of Louisiana residents who consider this behavior to be dangerous, unhealthy and immoral."
It's tempting to think it this is largely a fight over symbolism, but it's worth noting that last July, the East Baton Rouge Parish sheriff's office began arresting men for agreeing to have consensual sex with other men. When asked to defend the arrest, the sheriff's office
pointed to
 the statute that's "still on the books of the Louisiana criminal code."
That the statute is dead-letter law didn't seem to matter.
None of those charged faced prosecution -- lawyers couldn't find any evidence that a crime had been committed -- but the incident served as a reminder that it's generally not a good idea to leave unconstitutional laws in place just for the heck of it.