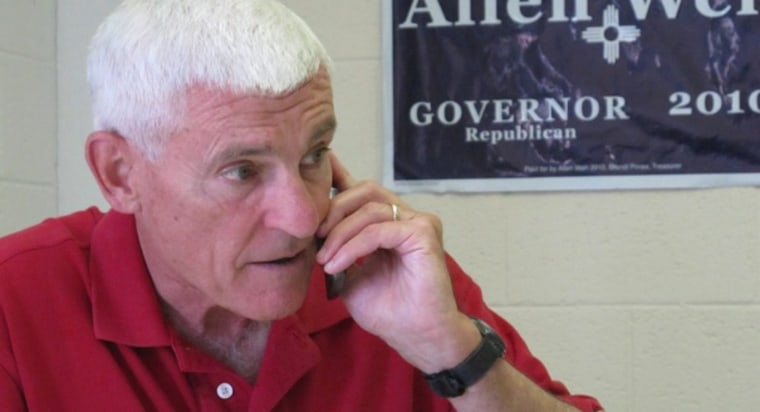 The masked man who beheaded journalist James Foley appears in a web video created in support of New Mexico Republican Senate candidate Allen Weh. The ad, released by the New Mexico Republican Party, is a combination of clips of President Barack Obama golfing and smiling paired with violence. The video also features Weh's opponent, Sen. Tom Udall (D-NM).
In the minute-long
video
, Foley's murderer is shown for a few seconds. Foley himself is not seen in the clip.
The video ends by telling viewers that "to change Washington, you must change your senator."
It's probably worth emphasizing that Allen Weh, a
figure
in the Bush/Cheney U.S. Attorney purge scandal, is generally considered a long-shot candidate. Facing tough odds, maybe Weh and his team decided a provocative message would shake up the race and boost his name recognition.
But there is such a thing as bad publicity.
Let's say you're a candidate for a major public office. And then let's say you come across ISIS's propaganda video in which terrorists murder an innocent American. If your first thought is, "Excerpts from that terrorist propaganda video would look great in a campaign clip," maybe a career in public service isn't for you.
For its part, the Weh campaign
defended
the message in response to questions from the
Huffington Post
.
Asked if the Weh campaign considered the Foleys' request before deciding to use the footage, a spokeswoman told The Huffington Post that the ad did not defy the family's wishes because it only showed Foley's executioner -- an as-yet-unidentified man with a British accent -- and not Foley himself. "It's not Foley, it's the man who killed him," the spokeswoman said.
I'm not sure that helps -- the Republican campaign still hopes to exploit a terrorist propaganda video for partisan gain -- but this is apparently the best defense Team Weh could come up with.