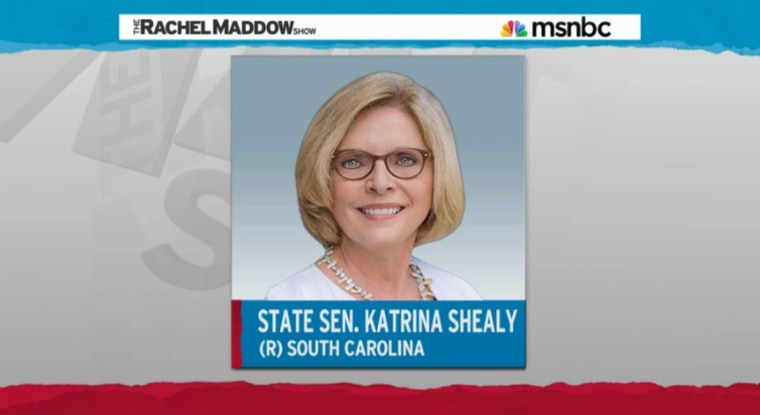 That, at face value, may seem like an unfortunate coincidence. But as the only woman in the chamber, Republican state Sen. Katrina Shealy, recently learned, this goes beyond just a lack of gender diversity.
One of her Republican colleagues, state Sen. Tom Corbin, decided to reflect
on gender issues
at a legislative dinner last week. "Well, you know God created man first," he said.  "Then he took the rib out of man to make woman.  And you know, a rib is a lesser cut of meat."
Shealy's response
came on the state Senate floor, and it wasn't directed at Corbin -- it was directed at women.
"(Y)ou will experience roadblocks and challenges," state Sen. Katrina Shealy, R-Lexington, said from the Senate's podium. "Don't be discouraged. Don't give up. "And don't you dare let anyone tell you that you are less than what you are. We need you to help solve the problems we face. South Carolina needs you to step up and lead."
For his part, Corbin said his comment was made "in jest," and he now realizes "it offended one of our members." He also seemed to blame Shealy, saying she "chose to be offended and make a big deal out of all this."
Shealy said she accepted Corbin's apology, but added, "[A]s I speak for myself and all women, these type remarks are never acceptable in public or in private.... [W]hether the person speaking them thinks they are in jest or not, these words are hurtful and disrespectful. We are all created equal and, as such, deserve respect."
For those who missed last night's segment: