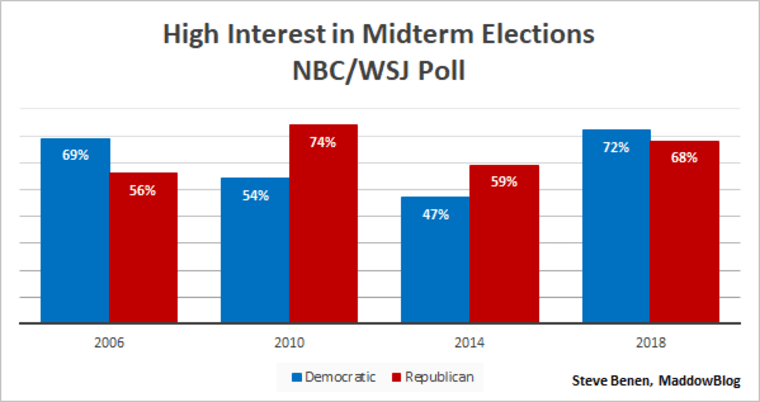 For many years, polling from NBC News and the Wall Street Journal has asked respondents to gauge their interest in voting on a 1-to-10 scale, with 10 being the highest. It's a good way to measure political intensity, giving us a hint about how eager various constituencies are in casting a ballot.
And if you're under the impression that interest is a bit higher than usual this year, it's not your imagination. The latest results found that 72% of self-identified Democrats are very interested in this year's elections -- meaning, they gauged their interest at a 9 or 10 on a 10-point scale -- while 68% of self-identified Republicans said the same.
In isolation, those numbers may not mean much, but MSNBC's Steve Kornacki tracked down the related results from NBC/WSJ polling from the last three midterm election cycles -- each of which were pretty significant in their own way.
In 2006, for example, voters participated in the last midterms of the George W. Bush presidency and they punished his party severely. More Dems were very interested in the election than Republicans -- 69% to 56% -- and the GOP lost control of both the House and Senate that year.
Four years later, the winds had shifted in the opposite direction, and it was Republicans who were very interested in the elections, 74% to 54%. Soon after, Democrats lost control of the House.
In 2014, which was an abysmal year for voter turnout, neither party was especially interested in the cycle, though the GOP had the intensity advantage, 59% to 47%. It was also the year Democrats lost their Senate majority.
All of which provides some notable context: the fact that 72% of Democrats are now very interested in the elections is the highest we've seen in quite a while for the party, but the fact that 68% of Republicans feel the same way suggests turnout is likely to be strong nationwide this year.
Buckle up.