Did this picture inundate your inbox today too?
Attributed to Ramon Garganta, and sent to a TV station, this photo purportedly shows a SHARK swimming in the flooded streets of Ponce, Puerto Rico after Hurricane Irene.
Smell something fishy?
You're not alone.
Swift-eyed denizens of the internet point out that the shark in that photo is actually THIS shark, snapped by Thomas Peschak.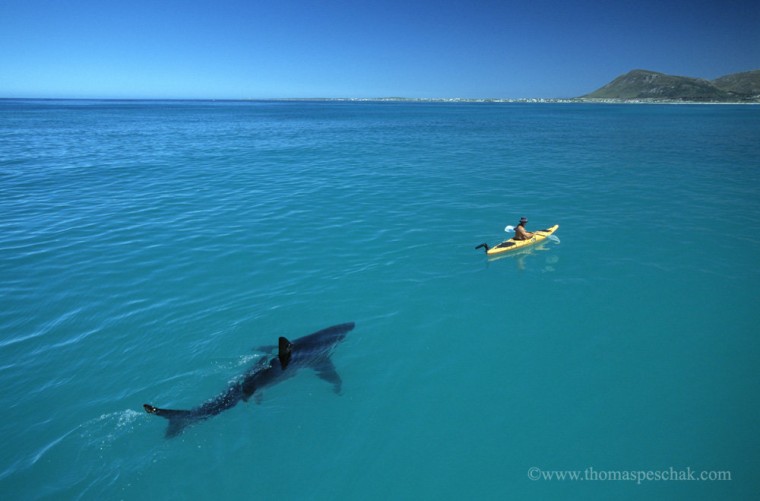 THAT is great white shark, chasing a kayak.
But even without the aid of experts in online shark photos, there's another route to debunking the photo of the Puerto Rican passing-lane predator. Even if, by some incalculable coincidence, a great white shark just HAPPENED to be in the same position as Peschak's when someone HAPPENED to photograph it elsewhere, it wouldn't have been in flood waters. Great white sharks can't survive in fresh water. And it wouldn't have been in Puerto Rico. Not only are great white sharks increasingly rare, but I couldn't find a single record of a great white shark sighting in that country.
The only shark that conceivably could end up swimming around a Ponce street after severe flooding is the bull shark.  It has the rare ability to live in both salt water and fresh water, and it's a native of Puerto Rico.
Scarily enough, it wouldn't be the FIRST time a bull shark has been spotted swimming around neighborhood streets after a flood. Two were apparently spotted swimming past a McDonald's in Australia earlier this year!