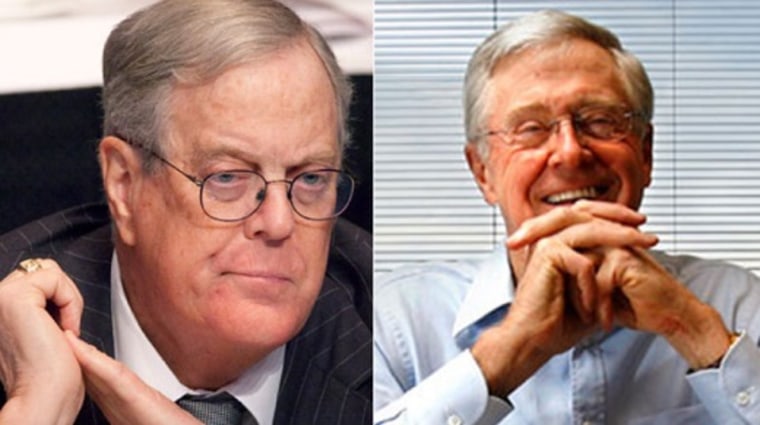 It was not, however, proof of Charles and David Koch losing their appetite for undermining "Obamacare." On the contrary, there's ample evidence that the Kochs are
financing
the very organizations waging a crusade against the health care law and demanding Republican policymakers keep up the fight.
What's more, let's also not forget that Koch brothers' attention is not limited to Congress. Sheryl Gay Stolberg
reported
over the weekend from Richmond, Virginia:
The federal government is again open for business, and Republicans in Washington are licking their wounds from the failed Tea Party attempt to derail President Obama's health care overhaul. But here in Virginia's capital, conservative activists are pursuing a hardball campaign as they chart an alternative path to undoing "Obamacare" -- through the states. One leading target is Emmett W. Hanger Jr., a Republican state senator from the deeply conservative Shenandoah Valley, who prides himself on "going against the grain." As chairman of a commission weighing one of the thorniest issues in Virginia politics, whether to expand Medicaid under Mr. Obama's Affordable Care Act, he is feeling heat from the Republican right. His openness to expansion has aroused the ire of Americans for Prosperity, the conservative advocacy group backed by the billionaire industrialist brothers Charles and David Koch. Dressed in emerald green T-shirts bearing the slogan "Economic Freedom in Action!" its members are waging what the senator calls "an attempt to intimidate me" in Richmond and at home. They have phoned his constituents, distributed leaflets and knocked on 2,000 doors in his rural district. When the Republican town committee met Monday night in Mr. Hanger's home county, Augusta, Americans for Prosperity was there.
AFP's president boasted about his group's "trench warfare" against the health care law, which in this case means pushing Virginia to reject Medicaid expansion, which in turn would keep 400,000 Virginians from having access to basic care.
In other words, the Kochs can tell Congress about their indifference to the Republican "defund" strategy, perhaps because they considered it a poor plan, but also because the conservative billionaires can focus their energies on state capitols, where it's easier to stop struggling families from having health care coverage.
Sure, it'll undermine families' needs, the commonwealth's finances, and the budgets of state hospitals, but for the Koch brothers, that's apparently a small price to pay for advancing their anti-healthcare agenda.
The fight is not limited to Virginia -- Stolberg's report added that the Kochs have also invested in similar campaigns in Arkansas, Florida, Ohio, Louisiana, Michigan, and Pennsylvania -- though the fight in this Southern swing state is going to be one to watch. State Attorney General Ken Cuccinelli (R), for example, hopes to block Medicaid expansion in Virginia, and has made it part of his gubernatorial platform. He sent out a fundraising appeal over the weekend, saying, "With less than three weeks left until Virginia's Election Day, I need your support more than ever. Will you chip in today to help support my fight against Obamacare?"
What's more, Virginia Tea Party groups are organizing around a hearing today of the Medicaid Innovation and Reform Commission. One of the Republican witnesses? Devon Herrick of the National Center for Policy Analysis, which is financed by -- you guessed it -- the Koch brothers.