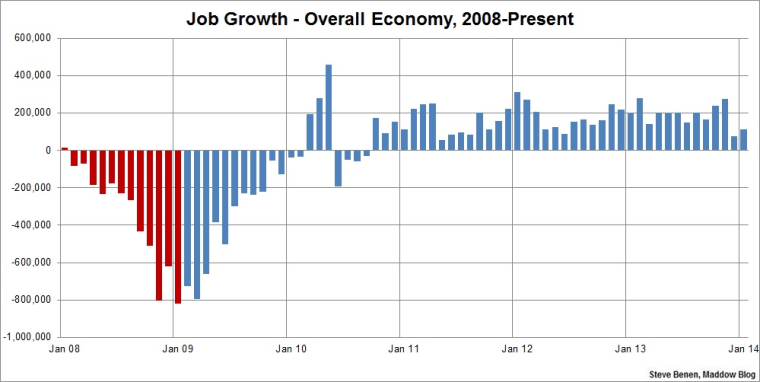 The good news is, U.S. job growth picked up in January following December's awful totals. The bad news is, that's not saying much.
The
new report
from Bureau of Labor Statistics shows the U.S. economy added 113,000 jobs in January, well below economists' expectations. The unemployment rate dropped to 6.6% -- its lowest point since October 2008 -- but that's cold comfort given the overall data, and is likely affected by congressional Republicans' decision to cut off jobless benefits for the long-term unemployed.
As is often the case, there was also a sizable gap between the public and private sectors -- in January, businesses added 142,000 jobs, while spending cuts forced 29,000 government job losses.
This report, like the one before it, offer yet another reminder to policymakers that the economic recovery is far from robust. For GOP lawmakers on Capitol Hill to forfeit 200,000 jobs this year by failing to extend jobless aid -- or worse, threaten deliberate harm through another debt-ceiling crisis -- only makes it harder for the economy to get to where it needs to be.
Above you'll find the chart I run every month, showing monthly job losses since the start of the Great Recession. The image makes a distinction – red columns point to monthly job totals under the Bush administration, while blue columns point to job totals under the Obama administration.
Also note, the Bureau of Labor Statistics does a once-a-year annual revision, updating every month's job totals from the previous calendar year. The above chart reflects the changes applied to 2013's monthly totals. (For what it's worth, while we initially believed 2.18 million jobs were created last year, the revisions now show 2.32 million jobs were created.)