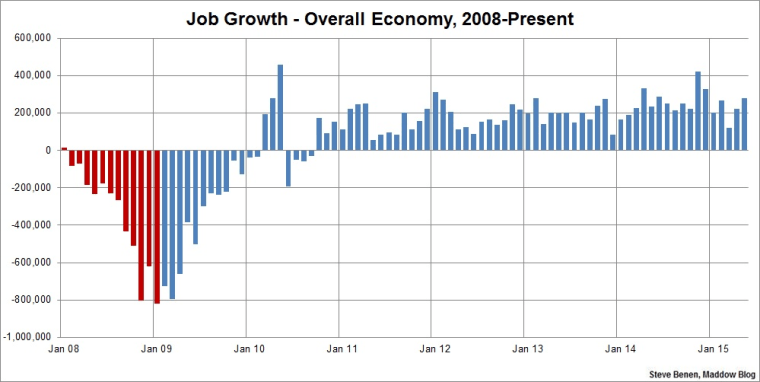 The
new report
from Bureau of Labor Statistics shows the U.S. economy added 280,000 jobs in May, well ahead of
expectation
. The overall unemployment rate inched higher to 5.5%, though it remains at a seven-year low.
The revisions were also generally positive. March's job totals were revised up, from 85,000 to 119,000, while April's were just a tad lower, dropping from 223,000 to 221,000. Combined, that's an addition of 32,000 previously unreported new jobs.
All told, the U.S. has added 3.06 million jobs over the last 12 months. May was the 56th consecutive month of positive job growth -- the best stretch since 1939 -- and the 63rd consecutive month in which we've seen private-sector job growth, which is the longest on record.
Jeb Bush argued just this week that the economy under Obama
has not improved
. Jobs reports like these suggest Bush's understanding of current economic conditions is completely backwards.
Above you'll find the chart I run every month, showing monthly job losses since the start of the Great Recession. The image makes a distinction – red columns point to monthly job totals under the Bush administration, while blue columns point to job totals under the Obama administration.
Update: Here's another chart, this one showing monthly job losses/gains in just the private sector since the start of the Great Recession.