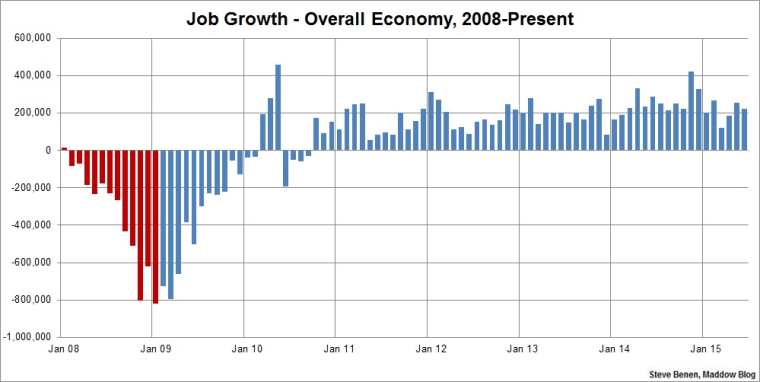 The
new report
from Bureau of Labor Statistics shows the U.S. economy added 223,000 jobs in June, roughly in line with expectation. The overall unemployment rate inched lower to 5.3%, its lowest point since April 2008, more than seven years ago.
The revisions, however, were less encouraging. April's job totals were revised down, from 221,000 to 187,000, while May's numbers were also lowered, dropping from 280,000 to 254,000. Combined, that's a loss of 60,000. Also discouraging is the fact that the jobs report didn't point to increased wage growth.
That said, there was also a big drop in long-term unemployment, which was more heartening. The overall takeaway is that this is a decent jobs report -- not great, not bad.
The U.S. has added 2.9 million jobs over the last 12 months. June was the 57th consecutive month of positive job growth -- the best stretch since 1939 -- and the 64th consecutive month in which we've seen private-sector job growth, which is the longest on record.
Above you'll find the chart I run every month, showing monthly job losses since the start of the Great Recession. The image makes a distinction -- red columns point to monthly job totals under the Bush administration, while blue columns point to job totals under the Obama administration.
Update: Here's another chart, this one showing monthly job losses/gains in just the private sector since the start of the Great Recession.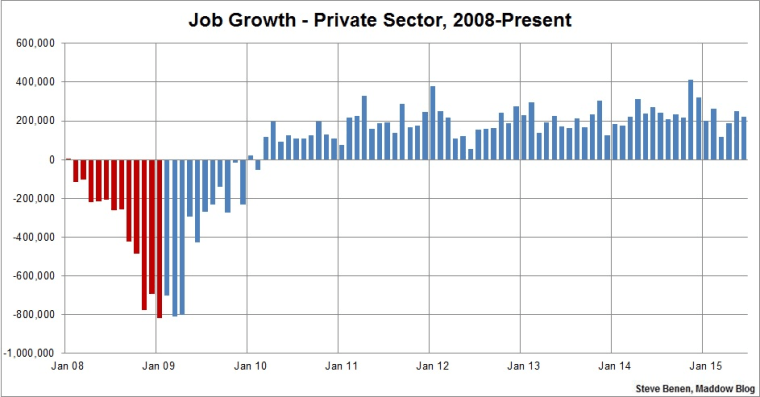 Second Update: One more, this time showing the unemployment rate in the Obama era: