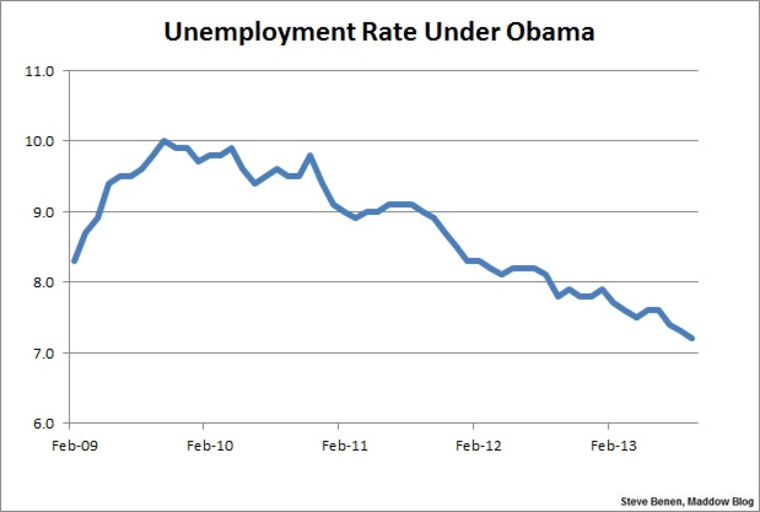 That, of course, leads to the question of whether this was one of those good drops in the jobless rate or one of those not-so-good drops. As it turns out, it was
the former
, not the latter.
In contrast to recent months, the drop in the main unemployment rate was almost totally for positive reasons. The number of people employed jumped by about 133,000, while the number of people who said they were unemployed dropped by 61,000. That's an improvement from August, when the unemployment rate only dropped because people dropped out of the labor force.
As we've
discussed
before, in the political world, we too often see a lazy game -- pick the metric that tells you what you want to hear. When the total number of jobs created soars and the unemployment rate doesn't dip, Republicans ignore the former and shout about the latter. When job creation slows but the jobless rate falls, Democrats do the opposite.
What's more, the jobless rate lends itself to manipulation, since it sometimes it goes up for good reasons (more people entering the workforce, confident about new job opportunities) and goes down for bad reasons (people withdrawing from the workforce). It's why I generally don't consider this metric, despite its popularity in the public consciousness, the one to watch.
That said, at least for now, those hoping for an improving economy can credibly point to the lowest unemployment rate in nearly five years as genuinely good news. This doesn't mean the latest job figures were good news -- they weren't -- but if you're looking for a silver lining to an otherwise disappointing report, this counts.