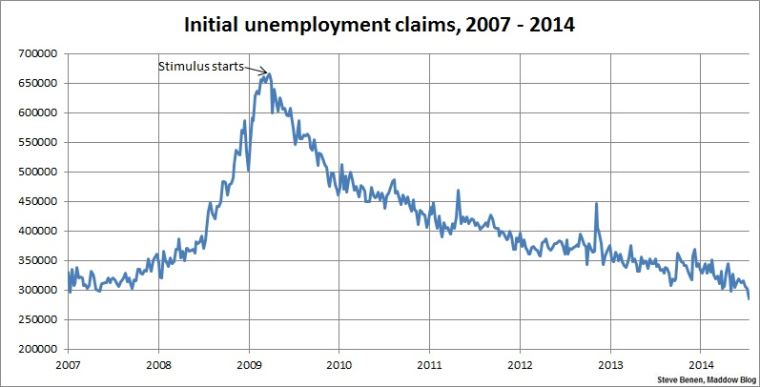 The number of people who applied for regular state unemployment-insurance benefits in the week that ended July 19 tumbled by 19,000 to 284,000 -- the lowest level since February 2006 -- signaling that companies have further slowed down the pace of layoffs and are letting go of few workers, according to government data released Thursday. Economists surveyed by MarketWatch had expected initial claims of 310,000 in the most recent weekly data. The average of new claims over the past month declined by 7,250 to 302,000 -- the lowest level since May 2007, the U.S. Labor Department reported.
Regular readers know I run the above chart every Thursday morning, highlighting initial unemployment claims since January 2007, the year the Great Recession started. Look closely, however, and you'll notice that today's report is the best since before the chart began.
That said, to reiterate the point I make every Thursday morning, it's worth remembering that week-to-week results can vary widely, and it's best not to read too much significance into any one report.
In terms of metrics, when jobless claims fall below the 400,000 threshold, it's considered evidence of an improving jobs landscape, and when the number drops below 370,000, it suggests jobs are being created rather quickly. At this point, we've been below 330,000 in 17 of the last 20 weeks.
Above you'll find the chart showing weekly, initial unemployment claims going back to the beginning of 2007. (Remember, unlike the monthly jobs chart, a lower number is good news.) For context, I've added an arrow to show the point at which President Obama's Recovery Act began spending money.