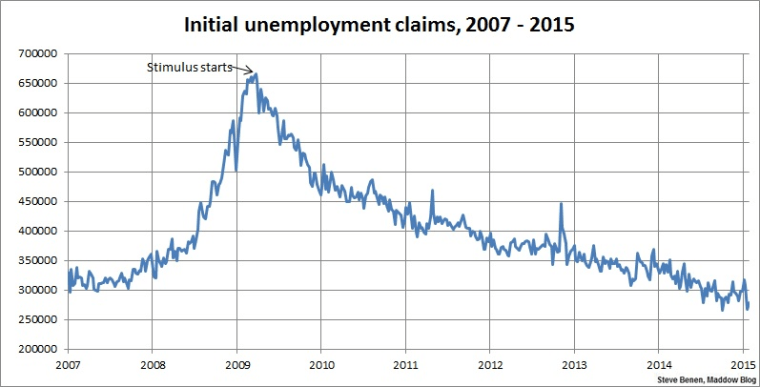 The number of people who applied for U.S. unemployment benefits rose by 11,000 to 278,000 in the seven days ended Jan 31. Economists polled by MarketWatch had expected claims to total a seasonally adjusted 290,000. The average of new claims over the past month, meanwhile, fell by 6,500 to 292,750, the Labor Department said Thursday. The four-week average smoothens out seasonal volatility in the weekly report and is seen as a more accurate predictor of labor-market trends.
To reiterate the point I make every Thursday morning, it's worth remembering that week-to-week results can vary widely, and it's best not to read too much significance into any one report.
In terms of metrics, when jobless claims fall below the 400,000 threshold, it's considered evidence of an improving jobs landscape. At this point, we've been below 300,000 in 18 of the last 21 weeks.
Above you'll find the chart showing weekly, initial unemployment claims going back to the beginning of 2007. (Remember, unlike the monthly jobs chart, a lower number is good news.) For context, I've added an arrow to show the point at which President Obama's Recovery Act began spending money.
And don't forget, tomorrow is Jobs Day, when the official Bureau of Labor Statistics data is released for January.