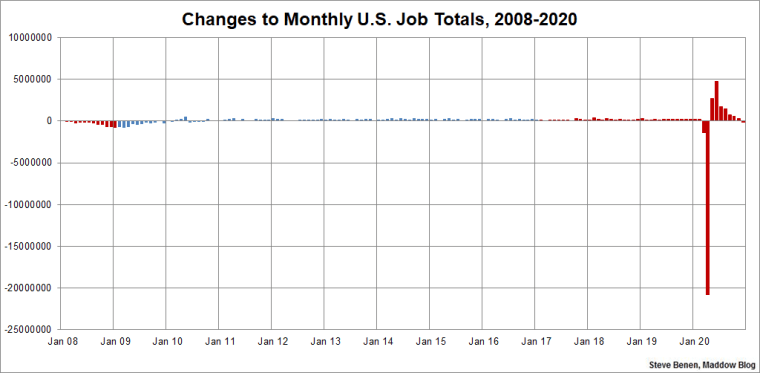 Expectations headed into this morning showed projections of about 50,000 new jobs added in the United States in December. As it turns out, according to the new report from the Bureau of Labor Statistics, was far more discouraging.
The economy shed 140,000 jobs in December, a clear indication that the pandemic's chokehold on economic activity strengthened in the final weeks of last year.... Economists say the numbers lay bare the struggles facing American workers, and represent a mandate for President-elect Joe Biden's administration to accomplish two things: Address the immediate financial needs of these households, and develop a longer-term solution that fosters job growth and protects the workers most vulnerable to disenfranchisement.
This is, incidentally, the final report of the Trump era. It seems fitting that the final jobs report of Donald Trump's failed term would be a disaster.
The trajectory in recent months highlights the broader problem: In March and April, the economy shed over 22 million jobs. The United States added jobs back every month between May and November, but that only brought us back halfway to where we were.
Just as importantly, the monthly totals gradually decreased every month since June. In other words, even as the economy added jobs, July's totals were worse than June's, August's totals were worse than July's, September's totals were worse than August's, and so on.
And now, according to this preliminary tally, not only were December's totals worse than November's, but the economy has stopped adding jobs altogether. It's the worst jobs report Americans have seen since April.
There's no great mystery here: as has been obvious since the start of the coronavirus pandemic, robust economic growth isn't sustainable amidst worsening public-health conditions. By ignoring the spread of COVID-19, Donald Trump -- who's spent recent months bragging about a "V-shaped" recovery that existed only in his mind -- has undermined the economy, too.
The economic relief package that recently passed Congress should help, but this new jobs report is a painful reminder about the scope of the problem and the need for additional fiscal efforts is all but inevitable.
Above you'll find the chart I run every month, showing monthly changes in total jobs since the start of the Great Recession. The image makes a distinction: red columns point to monthly changes under the Bush and Trump administrations, while blue columns point to monthly job changes under the Obama administration.