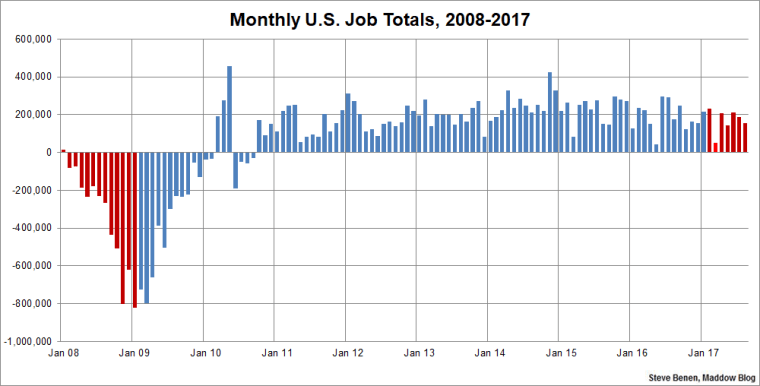 The job numbers in the early summer months looked pretty encouraging. The same cannot be said for August.
The Bureau of Labor Statistics reported this morning that the U.S. economy added 156,000 jobs in August, which is down from June and July totals, and fell short of expectations. The unemployment rate, while still low, inched up a little to 4.4%.
In fact, overall, this is not a heartening set of data. The revisions for June and July were both lower, and combined they show a net loss of about 41,000 jobs. (In case you're curious, the BLS report explained at the outset, "Hurricane Harvey had no discernible effect on the employment and unemployment data for August.")
All told, if current averages keep up, we're on track to see the U.S. economy add about 2.1 million jobs this calendar year, which isn't bad, but which would fall short of last year's totals. In the first eight months of last year, 1.55 million jobs were created, while in the first eight months of this year, the total is 1.4 million.
Above you'll find the chart I run every month, showing monthly job losses since the start of the Great Recession. The image makes a distinction: red columns point to monthly job totals under the Bush and Trump administrations, while blue columns point to job totals under the Obama administration.
Update: Here's another chart, this one showing monthly job losses/gains in just the private sector since the start of the Great Recession.