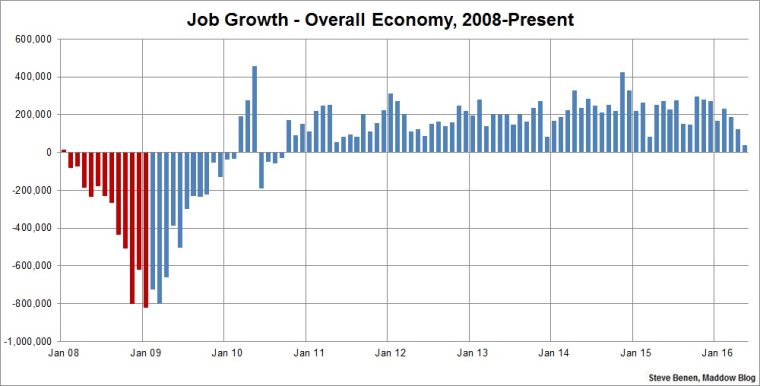 The Bureau of Labor Statistics
reported
this morning that the U.S. economy added a woeful 38,000 jobs in May, the worst monthly total since September 2010, nearly six years ago. The overall unemployment rate dropped to 4.7%, though that's cold comfort given the number of jobs created.
As for the revisions: March job totals were revised down, from 208,000 to 186,000, while April's totals were also revised down, from 160,000 to 123,000. Combined, that's a loss of 59,000.
Let's go ahead and state the obvious: this isn't good. In fact, it's one of the worst jobs reports -- if not the worst -- since the end of the Great Recession. But let's also make clear that there's no reason to panic. May's job totals will be revised twice more; the impact of the Verizon strike matters; and in recent years, we've seen other sharp drops in job totals, only to have the employment market bounce back.
Still, a report this bad is cause for concern, and the anxiety is compounded by the fact that should the economy need a jolt, the Republican-led Congress won't give it one.
Above you'll find the chart I run every month, showing monthly job losses since the start of the Great Recession. The image makes a distinction – red columns point to monthly job totals under the Bush administration, while blue columns point to job totals under the Obama administration.
Update: Here's another chart, this one showing monthly job losses/gains in just the private sector since the start of the Great Recession.