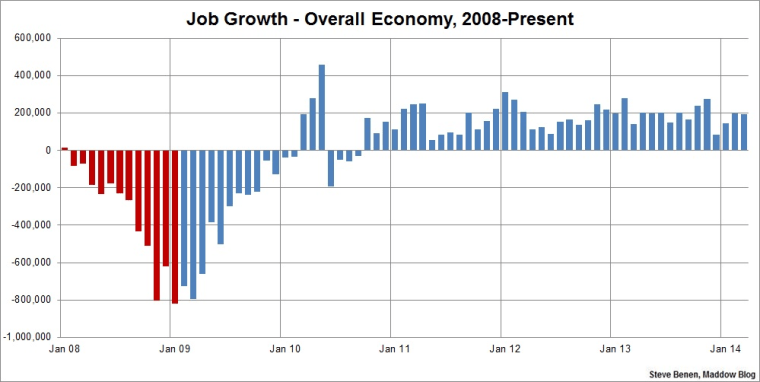 After discouraging monthly job reports in December and January, there were broad concerns about which way the job market was headed. Would it remain stuck or start to bounce back?
The latest evidence seems to suggest the latter. In fact, the
new report
from Bureau of Labor Statistics shows the U.S. economy added 192,000 jobs in March, roughly in line with economists' expectations. The unemployment rate remained the same at 6.7%.
For the second consecutive month, public-sector layoffs did not drag down the overall employment figures. Though jobs reports over the last few years have shown monthly government job losses, in March, the private sector added 192,000 while the public sector broke even. That could be a whole lot better, but at least it wasn't a negative number.
Better yet, the job totals for both January and February were both revised up quite a bit, pointing to an additional 37,000 jobs that had been previously unreported.
All told, over the last 12 months, the U.S. economy has added over 2.24 million jobs overall and 2.26 million in the private sector. What's more, March was the 49th consecutive month in which we've seen private-sector job growth.
Above you'll find the chart I run every month, showing monthly job losses since the start of the Great Recession. The image makes a distinction -- red columns point to monthly job totals under the Bush administration, while blue columns point to job totals under the Obama administration.