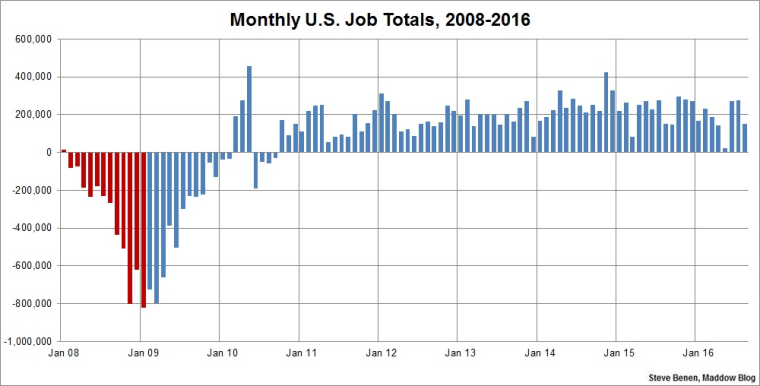 The Bureau of Labor Statistics
reported
this morning that the U.S. economy added 151,000 jobs in August, roughly in line with projections. The unemployment rate remained the same at 4.9%, the 11th consecutive month the rate has been at 5% or lower.
As for the revisions: June's job totals were revised down, from 292,000 to 271,000, while July's were revised up, from 255,000 to 275,000. Combined, the totals effectively even out.
All told, this isn't an especially exciting jobs report, though it does come against a notable backdrop: the Federal Reserve is weighing a possible rate hike, and after robust job growth in the early summer, an increase appeared more likely. Today's mild BLS report may very well lead the Fed to hold off a bit longer.
Over the last 12 months, the overall economy has created 2.44 million new jobs, which is a pretty healthy number. What's more, August was the 71st consecutive month of positive job growth, which is the longest on record.
Above you'll find the chart I run every month, showing monthly job losses since the start of the Great Recession. The image makes a distinction -- red columns point to monthly job totals under the Bush administration, while blue columns point to job totals under the Obama administration.
Update: Here's another chart, this one showing monthly job losses/gains in just the private sector since the start of the Great Recession.