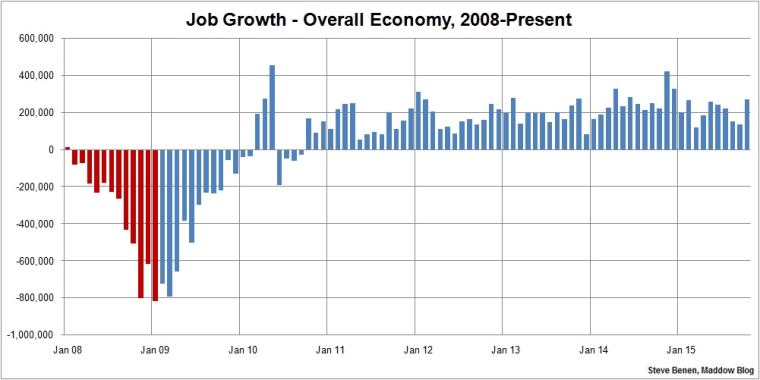 As a matter of fact, yes. The Bureau of Labor Statistics
reported
this morning that the U.S. economy added 271,000 jobs in October, far better than the 181,000 expected by economists. The overall unemployment rate inched lower to 5.0%, which is the lowest it's been since February 2008, nearly eight years ago.
This, coupled with improvement in wages, makes today's jobs report the best of 2015.
In terms of revisions, August's job totals were revised up, from 136,000 to 153,000, while September's totals were revised down slightly, from 142,000 to 137,000. Combined, that's an additional 12,000 previously unreported jobs. Not bad.
Overall, the U.S. has added 2.8 million jobs over the last 12 months -- 2.7 million in the private sector alone -- which is quite good, and 2.06 million jobs this calendar year. October was the 61st consecutive month of positive job growth -- the best stretch since 1939 -- and the 68th consecutive month in which we've seen private-sector job growth, which is the longest on record.
Above you'll find the chart I run every month, showing monthly job losses since the start of the Great Recession. The image makes a distinction – red columns point to monthly job totals under the Bush administration, while blue columns point to job totals under the Obama administration.
Update: Here's another chart, this one showing monthly job losses/gains in just the private sector since the start of the Great Recession.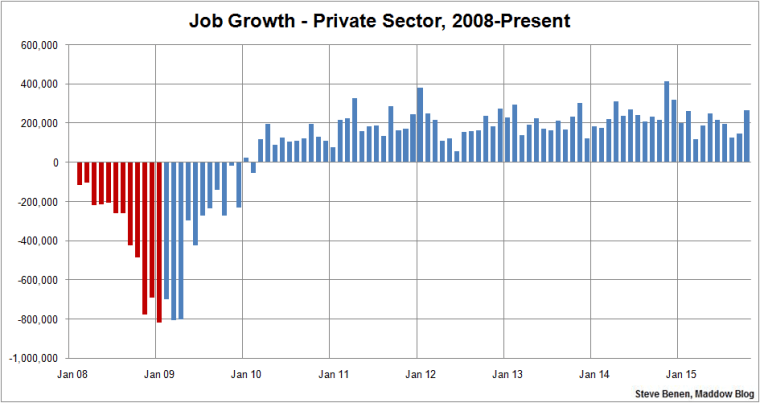 Second Update: One more, this time showing the unemployment rate in the Obama era: