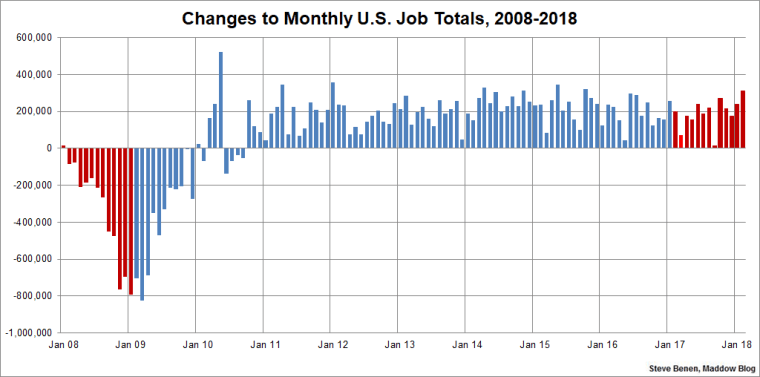 Headed into this morning, most economic observers expected the new jobs report to show steady growth, with roughly 200,000 new jobs. As it turns out, the projections weren't nearly optimistic enough.
The Bureau of Labor Statistics reported today that the economy added 313,000 jobs in February, while the unemployment rate held steady at 4.1%, which is very low.
Just as encouraging, the revisions for the previous two months -- December 2017 and January 2018 -- were both up significantly, pointing to an additional 54,000 previously unreported jobs.
Before Donald Trump starts tweeting that these are record-breaking numbers, let's note that while this is certainly the strongest report of his presidency, the nation topped 300,000 monthly jobs seven times in the Obama era: April 2011, January 2012, April 2014, June 2014, May 2015, and October 2015.
Also keep an eye on the Federal Reserve's reaction to the new data. If the markets start to drop today, it's probably because of fears of rising interest rates.
Above you'll find the chart I run every month, showing monthly changes in total jobs since the start of the Great Recession. The image makes a distinction: red columns point to monthly changes under the Bush and Trump administrations, while blue columns point to monthly job changes under the Obama administration.
Update: Here's another chart, this one showing monthly job losses/gains in just the private sector since the start of the Great Recession.