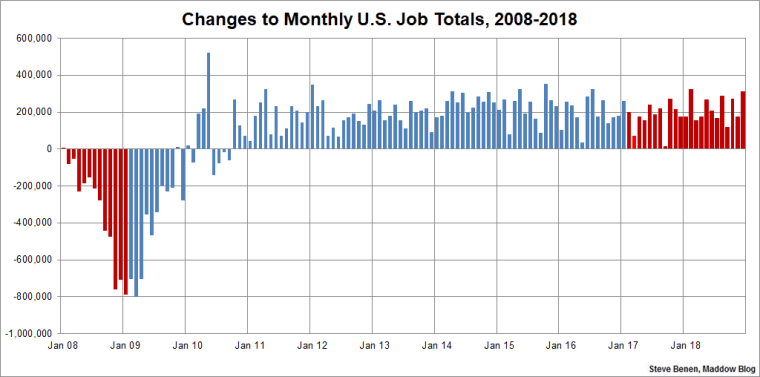 Ahead of this morning's jobs report, most projections pointed to growth in December of roughly 180,000 jobs. As it turns out, despite all of the recent chatter about a possible economic downturn, 2018 ended on a vastly stronger note.
The Bureau of Labor Statistics reported this morning that the economy added a surprisingly robust 312,000 jobs in December, while the unemployment rate inched a little higher, climbing to 3.9%.
On a related note, the revisions for the two previous months – September and October – also looked good, pointing to a net gain of 58,000.
I should mention that today's report does not reflect the possible effects of the government shutdown: the Labor Department's survey was conducted ahead of Dec. 21.
In terms of the larger context, this morning's data points to 2.64 million jobs created in 2018, which is quite good, and which is an improvement on the totals from 2017 (2.19 million) and 2016 (2.34 million). That said, this year's tally is still short of the job totals from 2014 (3.01 million) and 2015 (2.69 million).
When the White House says this is the best growth "ever," it apparently means "since a few years ago."
As for the political implications, Donald Trump has now been in office for 23 full months -- February 2017 through December 2018 -- and in that time, the economy has created 4.57 million jobs. In the 23 full months preceding Trump's presidency -- March 2015 to January 2017 -- the economy created 4.82 million jobs.
The White House has not yet offered an explanation for why job growth has slowed since Trump took office.
Above you'll find the chart I run every month, showing monthly changes in total jobs since the start of the Great Recession. The image makes a distinction: red columns point to monthly changes under the Bush and Trump administrations, while blue columns point to monthly job changes under the Obama administration.
Update: Here's another chart, this one showing monthly job losses/gains in just the private sector since the start of the Great Recession.