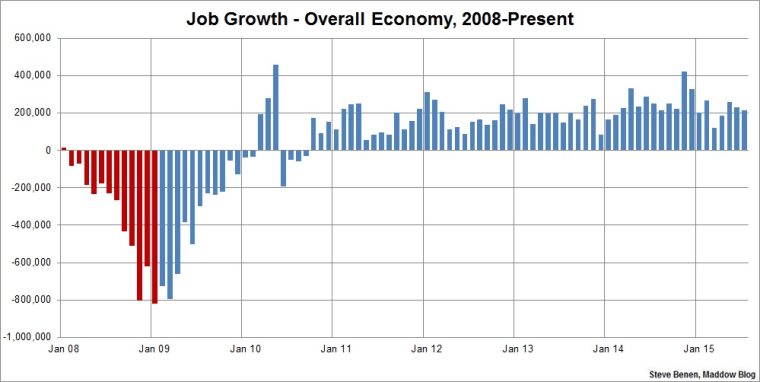 The revisions also point in a fairly encouraging direction. May's job totals were revised up, from 254,000 to 260,000, while June's numbers were also revised up, from 223,000 to 231,000. Those are modest increases, to be sure, but it's better than the alternative. The same report also showed a slight increase in wages.
I can appreciate why job totals like these seem a little dull. Lately, it seems most monthly reports on jobs show roughly the same thing: growth around +200k and low unemployment. But let's not take good news for granted, because it wasn't that long ago that the country was desperate for news like this. What's ho-hum in August 2015 would have produced dancing in the streets in August 2009.
Overall, the U.S. has added 2.91 million jobs over the last 12 months, which is excellent. July was the 58th consecutive month of positive job growth -- the best stretch since 1939 -- and the 65th consecutive month in which we've seen private-sector job growth, which is the longest on record.
Above you'll find the chart I run every month, showing monthly job losses since the start of the Great Recession. The image makes a distinction -- red columns point to monthly job totals under the Bush administration, while blue columns point to job totals under the Obama administration.
Update: Here's another chart, this one showing monthly job losses/gains in just the private sector since the start of the Great Recession.