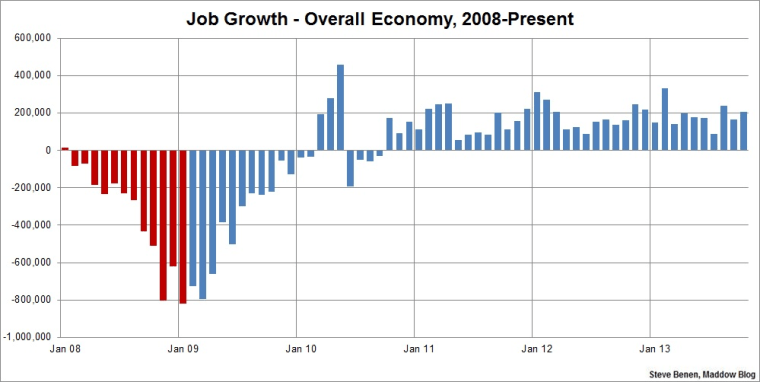 If there was one thing everyone seemed to expect this morning, it was a discouraging jobs report from the Bureau of Labor Statistics. After all, these new figures cover the month of October, which means they'll include the period in which congressional Republicans shut down the federal government.
Imagine our surprise, then, when the new jobs data turned out to be pretty good.
According to the
new BLS report
, the U.S. economy added 204,000 jobs in October, double economists' expectations. The private sector added 212,000 jobs -- the second best total of the year thus far.
The overall unemployment rate inched higher, from 7.2% to 7.3%, though as we've discussed many times, that's not uncommon when job creation picks up.
Even better still are the revisions. August's job totals were revised from 193,000 to 238,000, while September's were revised up from 148,000 to 163,000. That's a combined 60,000 additional jobs that had been previously unreported.
All told, so far in calendar year 2013, the economy has added 1.86 million jobs, which puts the U.S. on pace for the best year for job creation since before the 2008 crash.
Above you'll find the chart I run every month, showing monthly job losses since the start of the Great Recession. The image makes a distinction – red columns point to monthly job totals under the Bush administration, while blue columns point to job totals under the Obama administration.