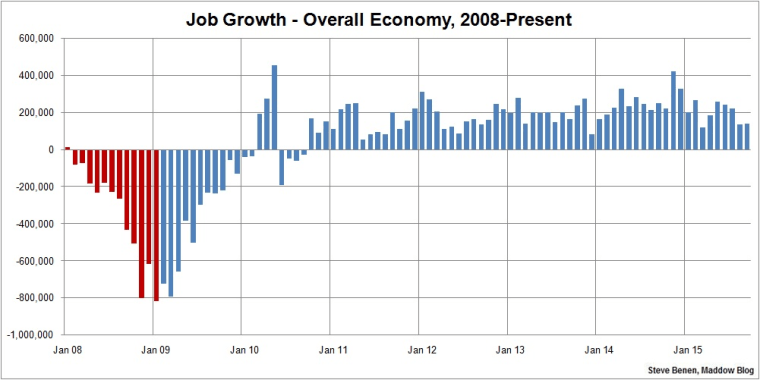 The Bureau of Labor Statistics
reported
this morning that the U.S. economy added 142,000 jobs in September, well below the 200,000 expected by economists. The overall unemployment rate remained 5.1%, which is still the lowest point since April 2008, more than seven years ago.
Making matters slightly worse, though summer revisions often paint a more encouraging picture, today's data points in the opposite direction. July's job totals were revised down, from 245,000 to 223,000, while August's totals were also revised down, from 173,000 to 136,000. That's a combined 59,000 jobs we thought we'd created, but didn't.
For those rooting for the U.S. economy, this isn't the report we were hoping for.
That said, overall, the U.S. has added 2.75 million jobs over the last 12 months, which is actually pretty good. September was the 60th consecutive month of positive job growth -- the best stretch since 1939 -- and the 67th consecutive month in which we've seen private-sector job growth, which is the longest on record.
Above you'll find the chart I run every month, showing monthly job losses since the start of the Great Recession. The image makes a distinction – red columns point to monthly job totals under the Bush administration, while blue columns point to job totals under the Obama administration.
Update: Here's another chart, this one showing monthly job losses/gains in just the private sector since the start of the Great Recession.