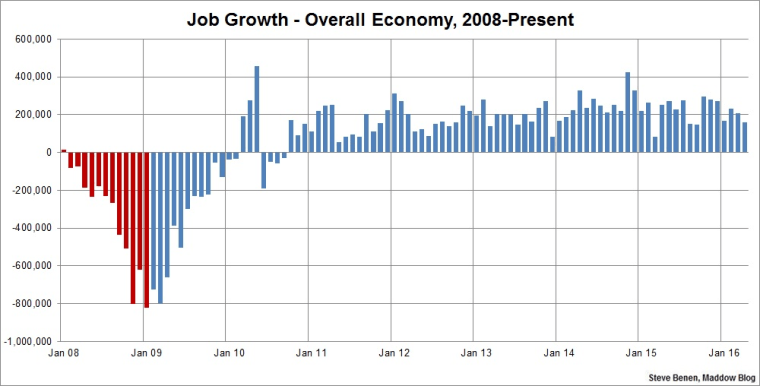 That's not quite what happened. The Bureau of Labor Statistics
reported
this morning that the U.S. economy added 160,000 jobs in April, below projections. The overall unemployment rate remained 5.0%, and for the first time in over eight years, we've been at or below this level for seven consecutive months.
As for the revisions: February's job totals were revised down a little, from 245,000 to 233,000, while March's totals were also revised down a bit, from 215,000 to 208,000. Combined, that's a loss of 19,000.
All things considered, it's a discouraging report, though the news wasn't all bad: this same report pointed to a decent bump in wages, which serves as a nice silver lining.
Over the last 12 months, the overall economy has created 2.69 million new jobs, which is a pretty healthy number. What's more, March was the 67th consecutive month of positive job growth -- the best stretch since 1939 -- and the 74th consecutive month in which we've seen private-sector job growth, which is the longest on record.
Above you'll find the chart I run every month, showing monthly job losses since the start of the Great Recession. The image makes a distinction – red columns point to monthly job totals under the Bush administration, while blue columns point to job totals under the Obama administration.
Update: Here's another chart, this one showing monthly job losses/gains in just the private sector since the start of the Great Recession.