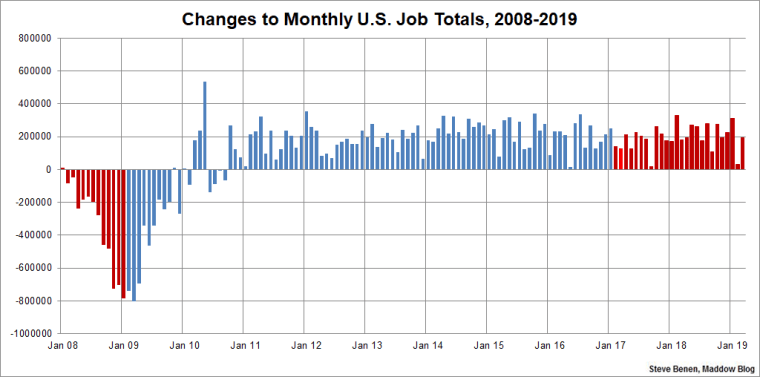 Ahead of this morning's jobs report, most projections pointed to growth in March of roughly 175,000 jobs. Fortunately, the results were even better than that.
The Bureau of Labor Statistics reported this morning that the economy added 196,000 jobs last month, while the unemployment rate held steady at 3.8%.
The revisions from the previous two months were modest, with the latest tally showing a job market that created a paltry 33,000 jobs in February. Many observers were left to wonder whether that was a fluke -- outliers happen from time to time -- or cause for concern. The healthy gains in March should ease some of those anxieties.
As for the political implications, Donald Trump has now been in office for 26 full months -- February 2017 through March 2019 -- and in that time, the economy has created 5.12 million jobs. In the 26 full months preceding Trump's presidency -- December 2014 to January 2017 -- the economy created 5.57 million jobs.
The White House has not yet offered an explanation for why job growth has slowed since Trump took office.
Above you'll find the chart I run every month, showing monthly changes in total jobs since the start of the Great Recession. The image makes a distinction: red columns point to monthly changes under the Bush and Trump administrations, while blue columns point to monthly job changes under the Obama administration.