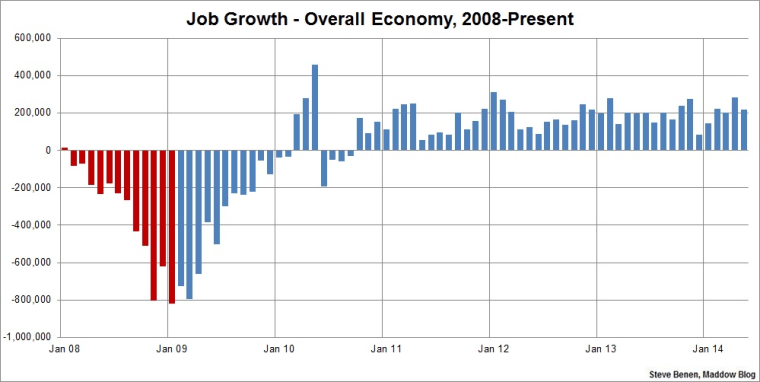 The
new report
from Bureau of Labor Statistics shows the U.S. economy added 217,000 jobs in May, which is almost exactly what economists expected. The overall unemployment rate, meanwhile, remained at 6.3% -- still at its lowest point since September 2008, nearly six years ago.
For the fourth consecutive month, public-sector layoffs did not drag down the overall employment figures. Though jobs reports over the last few years have shown monthly government job losses, in May, the private sector added 216,000 while the public sector added 1,000. The latter is obviously tiny, but after several years in which that total was negative, it's at least somewhat heartening.
As for the revisions, March's totals remained the same, while April's figures were revised down slightly, from 288,000 to 282,000.
Overall, this is a report that suggests the jobs landscape is ... holding steady. At least after one read-through, there's nothing that stands out as either great or horrible. The economy continues to plod along steadily.
All told, over the last 12 months, the U.S. economy has added over 2.38 million jobs overall and 2.36 million in the private sector. What's more, May was the 51st consecutive month in which we've seen private-sector job growth. The year isn't quite half over, but 2014 is currently on track to be the best year for U.S. job creation since 1999.
Above you'll find the chart I run every month, showing monthly job losses since the start of the Great Recession. The image makes a distinction – red columns point to monthly job totals under the Bush administration, while blue columns point to job totals under the Obama administration.
Update: Here's another chart, this one showing monthly job losses/gains in just the private sector since the start of the Great Recession.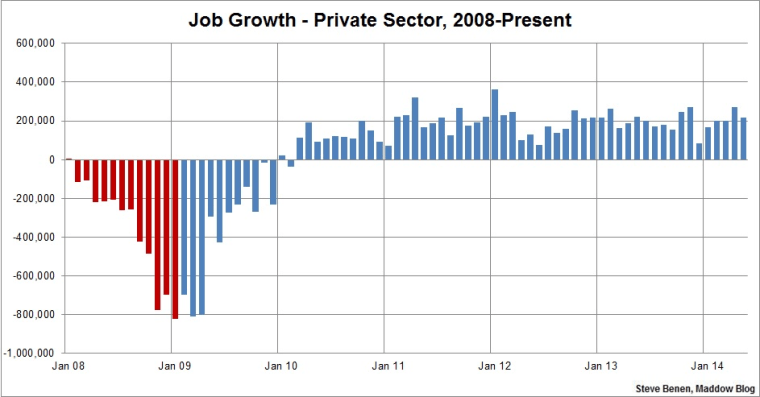 Second Update
: 
Justin Wolfers notes
a couple of related tidbits that are worth remembering. First, as of today's report, the total number of jobs has "finally climbed back above its pre-recession level." Second, 51 consecutive months of private-sector job growth is now tied for the longest streak on record, matching a streak from Clinton's second term.