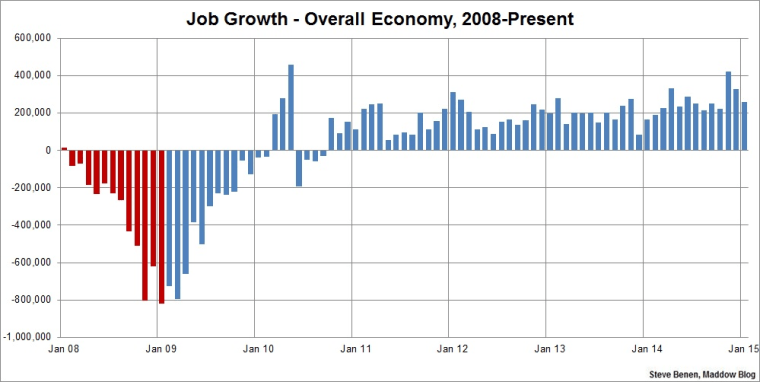 The
new report
from Bureau of Labor Statistics shows the U.S. economy added 257,000 jobs in January. The overall unemployment rate inched higher, from 5.6% to 5.7%, but this was an encouraging increase -- more Americans are entering the market again.
Once a year, the BLS publishes benchmark revisions, going back and recalculating monthly job totals for all of the previous year, and that report was released today. And on this front, the news was even better -- November's totals were revised up from 353,000 to 423,000, while December's figures were revised up, from 252,000 to 329,000. Combined, that's an additional 147,000 jobs.
All told, January's totals may not be quite as stunning as the figures from November and December, but this is still a strong jobs report. Indeed, wage increases last month were the best Americans have seen in six years.
Just as important, we now know 2014 was an even more impressive year than we'd realized, the U.S. economy added over 3.1 million jobs overall and 2.86 million in the private sector. What's more, January was the 52md consecutive month of positive job growth -- the best stretch since 1939 -- and the 58th consecutive month in which we've seen private-sector job growth, which is the longest on record.
Last year was easily the best year for U.S. job creation since 1999, which Republicans may struggle to explain in light of the Affordable Care Act, higher taxes, and federal regulations.
Above you'll find the chart I run every month, showing monthly job losses since the start of the Great Recession. The image makes a distinction – red columns point to monthly job totals under the Bush administration, while blue columns point to job totals under the Obama administration.