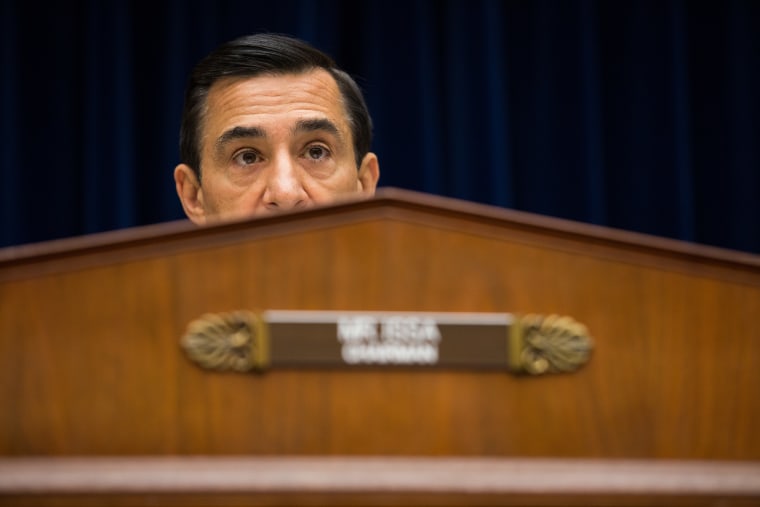 "We need to have an answer of when the Secretary of Defense had assets that he could have begun spinning up. Why there was not one order given to turn on one Department of Defense asset? I have my suspicions, which is Secretary Clinton told Leon [Panetta] to stand down, and we all heard about the stand down order for two military personnel. That order is undeniable. "They were told not to get on -- get off the airplane and kind of standby -- and they're going to characterize it wasn't stand down. But when we're done with Benghazi, the real question is, was there a stand down order to Leon Panetta or did he just not do his job? Was there a stand down order from the President who said he told them to use their resources and they didn't use them? Those questions have to be answered."
When it comes to rhetorical excesses, Issa is known as a politician who's comfortable taking liberties with reality, but this Benghazi rhetoric is spectacularly wrong. Indeed, it's insultingly wrong -- for the California Republican to repeat such as outlandish fictions in public suggests a certain contempt for one's audience. Issa, in this case, just didn't seem to respect the Republican donors at this fundraiser enough to be honest with them.
Glenn Kessler already published
a rather comprehensive takedown
of Issa's shameless claims on the subject -- the
Washington Post
writer said Issa "is crossing a line" -- but there's an even larger context to this that's worth keeping mind.
First, Issa's version of events isn't just at odds with reality, it's even at odds with
Republicans'
version of reality. As Hayes Brown
noted
, Issa's GOP colleagues on the House Armed Services Committee released a Benghazi report just last week, "which explicitly denied the existence of the order Issa claims happened. 'There was no 'stand down' order issued to U.S. military personnel in Tripoli who sought to join the fight in Benghazi,' the report says within its first few pages."
Issa told Republican donors, "That order is undeniable." Then why, from Issa's perspective, do House Republicans deny what is undeniable? Are his own allies in on the conspiracy? Are we to see Issa as the last honest man in Washington?
Second, it also seemed interesting to me that Issa's demonstrably false claims put former Secretary of State Hillary Clinton at the center of his conspiracy theory. Ordinarily, congressional Republicans try to implicate President Obama in their manufactured narrative, but it seems some in the GOP have begun looking ahead. It may well be a sign of things to come.
Among Republicans, there is no more popular general than David Petraeus, the commander credited for salvaging the Iraq war and the architect of the counter-insurgency strategy pursued by President Bush. Petraeus has always shied away from politics, but in a new book he is quoted lavishing so much praise on Hillary Clinton, he seems to be endorsing her as a candidate for President. "She'd make a tremendous president," Petraeus says in the new book "HRC" by Jonathan Allen and Aimee Parnes. And for Petraeus, Exhibit A in why she would be a tremendous president is the very thing for which Republicans most aggressively attack Clinton: her performance as Secretary of State when the U.S. consulate in Benghazi, Libya, was attacked. "Like a lot of great leaders, her most impressive qualities were most visible during tough times," Petraeus tells Allen and Parnes. "In the wake of the Benghazi attacks, for example, she was extraordinarily resolute, determined, and controlled."
Given Republicans' fondness for Petraeus, this should make the Benghazi pushback against Clinton more difficult. Then again, in light of Issa's ridiculous comments this week, it probably won't matter in the end.
For his part, Rep. Elijah Cummings (D-Md.), the ranking member on the Oversight Committee, wrote to Issa this morning insisting that he formally apologize and immediately withdraw his baseless accusations. "The definition of treason is the betrayal of allegiance owed to one's country, and your statements seem to accuse former Secretary Clinton of this offense. You suggest that Secretary Clinton directed the Secretary of Defense of the United States to intentionally withhold military assistance that may have saved the lives of one of her own ambassadors and three other brave Americans serving their country.," Cummings wrote. "Your accusations are beyond the pale, and you should immediately retract them and issue a public apology."