Last week I had the opportunity to attend a Showstoppers* tech show. I've been on their mailing list since I covered one of the big CES shows a few years ago so I like to try to get to their New York City events when I can, just to see what cool things they have.
Coolest of the show was the Dot from a company called Kogeto. You may already be familiar with the iPhone attachment lenses that stick on with a little magnetic circle. This is similar in that it covers your phone lens, but the whole mechanism clips onto your phone so it's a little more secure. Oh, and did I mention it shoots interactive 360 video?
I guess really what it does is shoot dome-shaped video. I've seen this once before on a much larger scale, we had a guy ride a bicycle through hurricane-ravaged New Orleans with a helmet cam that did a similar thing. The dome sees distorted but in 360, so you shoot that reflection and then algorithmically flatten it out.
Coolest of all, the Dot lets you pan around the 360 video while it's playing.
I've asked for one to review, so we'll see if we can shoot one of Bill's videos with this and have some fun with it next week.
After the jump, guess what this does...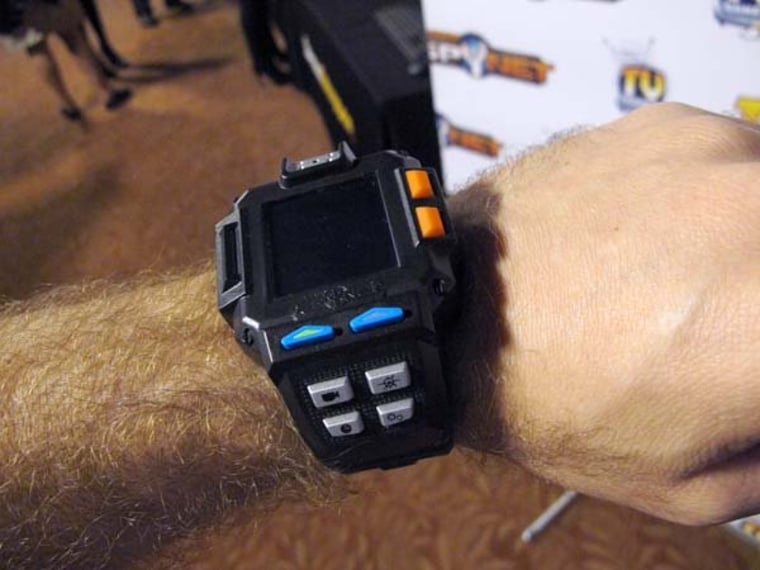 ---
It's a video watch!!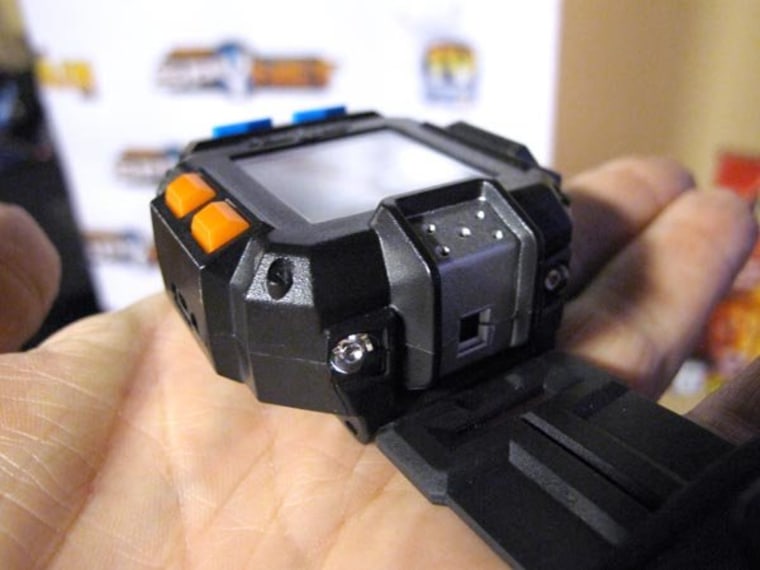 Since we know a certain cable news host who like both spy stuff and dorky watches, this seemed worth noting. The last time I saw a preview from the JAKKS Pacific SpyNet folks, they had just come out with night vision goggles. These are just toys, obviously, so the quality may be weak (I didn't get to see the actual video it shoots) but that $50 MSRP price makes tempting regardless (I wonder how hackable it is.)
They also had video sunglasses. I bet this is a fun company to work for. :)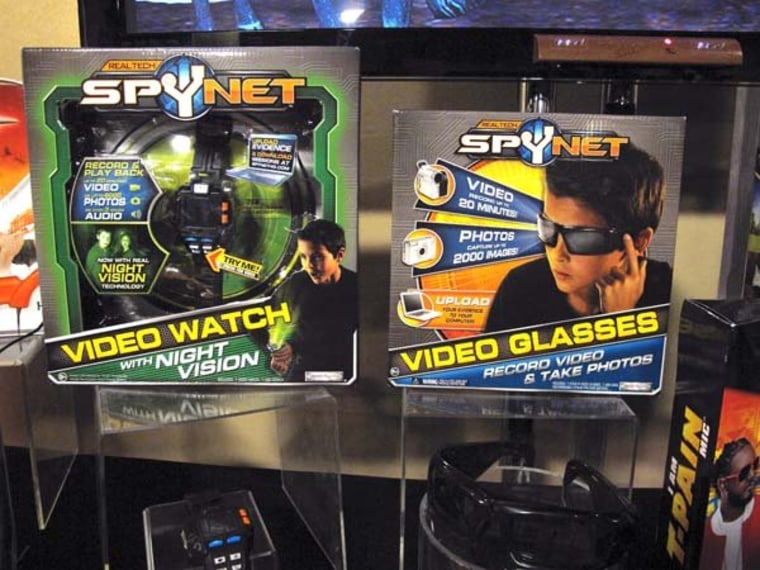 The picture below is of the Cinq from a company called Sideline. It's a USB plug-in second laptop monitor. They were also displaying it as a stand-alone portable monitor, but the second screen use is the mind-blower for me. In the demo in the photo they have TweetDeck or some Twitter application running there, which would definitely be handy. I can also see dragging a video window there to make it possible to work and watch streaming video. Especially if you're already used to working with two screens at work, it'd be nice to get some of that real estate back on the laptop. (Oh! What about a place to put your Photoshop tool windows while working on an image!)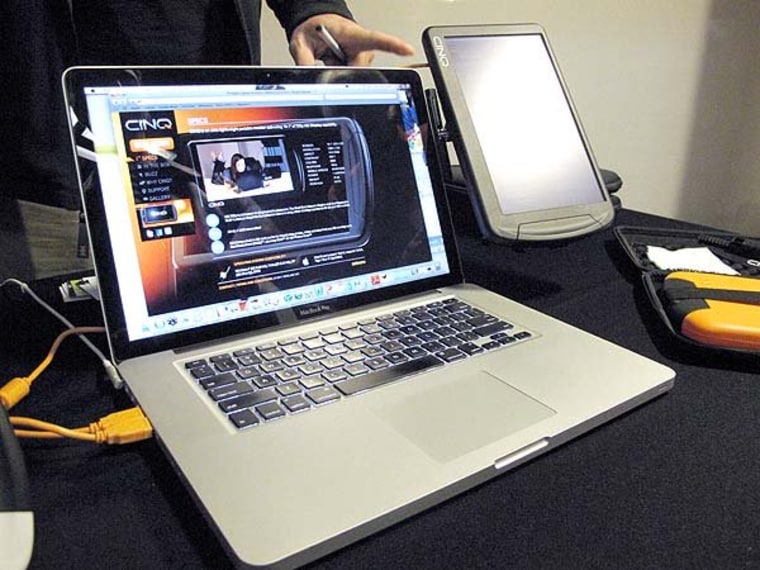 Ok, this next one is for Laura.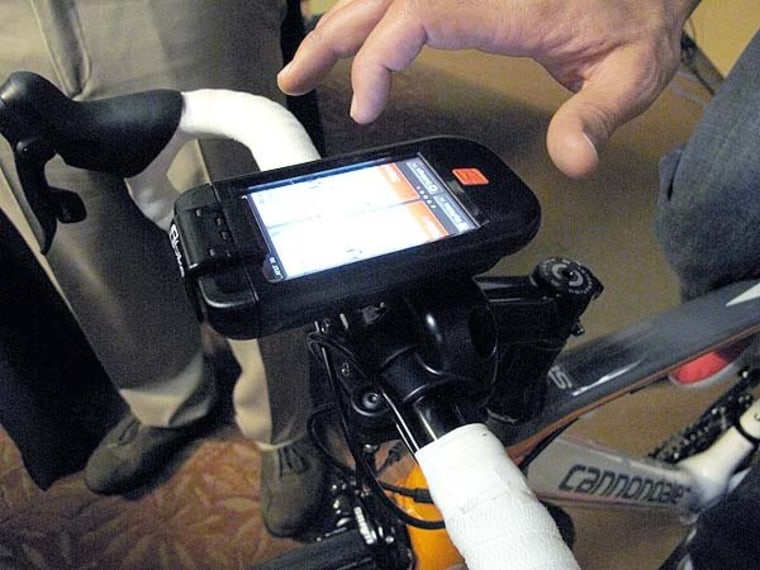 It's the iBikeDash that allows you to turn your iPhone into a smart dashboard for you bike. So trips and tracking and basically all the data you'd expect would be generated while riding your bike. I'm a little confused about what the difference is between the iBikeDash and the iBikeCoach. I think the Coach is the umbrella brand that the Dash is part of.
On the handlebars of this bike is a protective pouch (they call it the phone booth) that the iPhone slides into. Something I learned from this show is that Apple was smart not to mess with shape of the iPhone too much through all of its various generations. Because of that, the fit is pretty consistent for iPhone devices. When you ask about Android versions, the problem for gadget makers is that while Android software has a broad user base, the phones are all different shapes.
One other thing about the iBikeDash: I was wondering how it could know your speed. Naturally it uses GPS for a lot of its functionality and I've used GPS devices to track my speed on a train and even on a plane, but I've had trouble getting accurate GPS speed readings at what we might call human level. Their answer is to put a sensor on the frame by the rear wheel and a magnet on the wheel itself.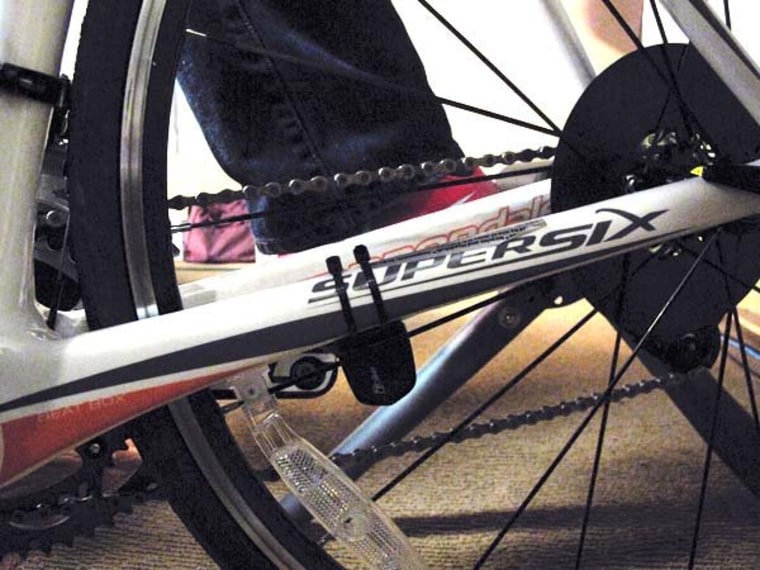 Honorable mention:
The Boogie Board tablet, had a huge crowd around the table when I was there (journalist appeal I guess). It's lighter than a pad of paper and takes hand writing really cleanly and naturally. You can save what you write/draw and then export it as a pdf for printing if you want. I wanted it to have a wireless export and I wanted an "erase previous line" feature (which, to be fair, a pen and paper does not have). Anyway, it is cool for what it does and if you're a person who takes a lot of meeting notes that then sit on a pile on your desk as they immediately lose relevance to the next day's meetings, you might want to give this a look ($129). 
Also, ZeroChroma has solved the problem of fighting with your i-device to get it to stand up how you want it.
_____________________________
*I always feel like these tech show reviews should have some kind of disclaimer on them. I did not perform any particularly probing journalism to discover these products. I'm on a mailing list for tech industry showcases because I'm in the media. It makes sense for the industry to function this way, to combine their efforts to get attention. And it's certainly an easy way to consume a lot of technology in one dose. At the same time, this was all handed to me. I didn't dig around to look for competing 360 degree snap-on iPhone devices. I haven't analyzed the field of video watches. ShowStoppers describes their shows as "a complete turnkey package planned specifically by ShowStoppers to help companies large and small generate news coverage and product reviews" - and they certainly are. They even have food at them. Typically, however, news doesn't come in a turnkey package. So please take this blog post for what it is, a fun look at some cool toys that I was lucky enough to have the chance to play with.