The number of people without power in India is well beyond my range of comprehension. Per today's New York Times:
About 600 million people lost power in India on Tuesday when the country's northern and eastern electricity grids failed, crippling the country for a second consecutive day.
The population of the United States is 314,063,845, so nearly two United Stateses? I need a map.
As it happens, a blog called Maps of the World built exactly what I was looking for:
India's regional electric grids overlaid on top of a map of India's states, with the blacked out grids highlighted.
After the jump, let's break this down a little with closer look at the grids and also how the population is distributed.
I haven't looked up the electricity grids of many other countries, so maybe this is typical, but I was really surprised at how transparent the India electric system is. This may also be a symptom of their particularly complex energy demands and the effort to workshop solutions to balancing supply and demand.
This map of the regional electric grids comes from a particularly enlightening 2007 paper (pdf) on the India energy distribution situation: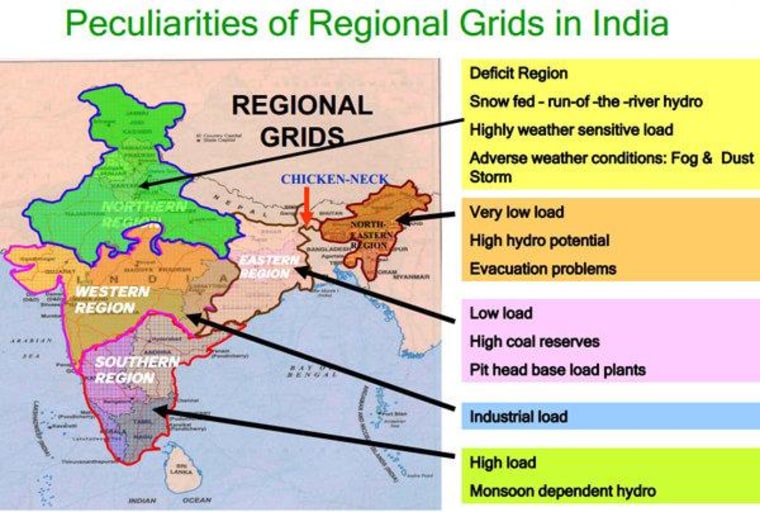 The previous page of that paper shows India divided into two grids, the Southern grid and everything else, but whatever the purpose that two grid perspective shows, it seems clear that the regional grids are still significant because the outages fall along those delineations.
Monday's blackout was just the Northern Region grid. AFP puts the number affected at 300 million (approximately one entire United States).
Here's the VOA's map of the outrages, matching the Northern Region grid: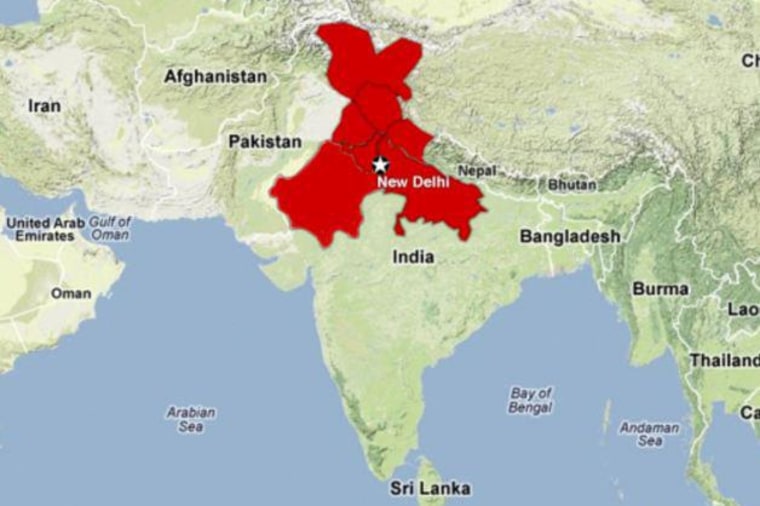 The AFP map includes an extra state, outside the Norther Region grid, but the VOA map aligns exactly. I'm not sure if the extra state on the AFP map is a sign of overlap in the grids or maybe an early glimpse of what was to come the next day when the Northern, Eastern and Northeastern regional grids went out. That's what the map up top is showing and here's how India's IBN Live showed it: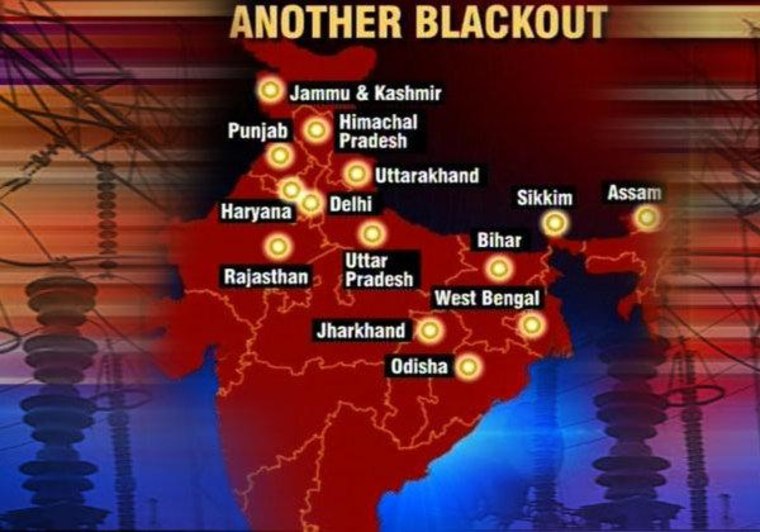 Seeing the cities mapped brings us to the other part of the equation. Where is India's population within these outages?
A site called Maps of India has the best, most recent (2010) map of India's population distribution I could find: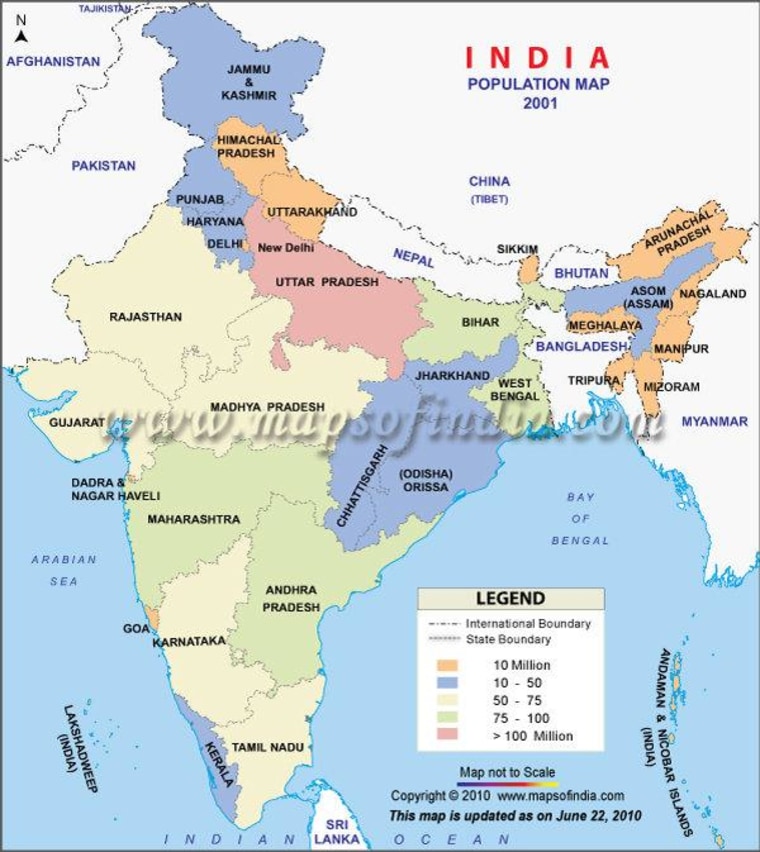 Ah! Yes, that does look like a recipe for 600 million people without power.
Digressing now, but this is still interesting: While looking through population maps of India I also found this one from a 1988 study comparing the grid regions, divided into time zones, and population distributed over longitudinal regions.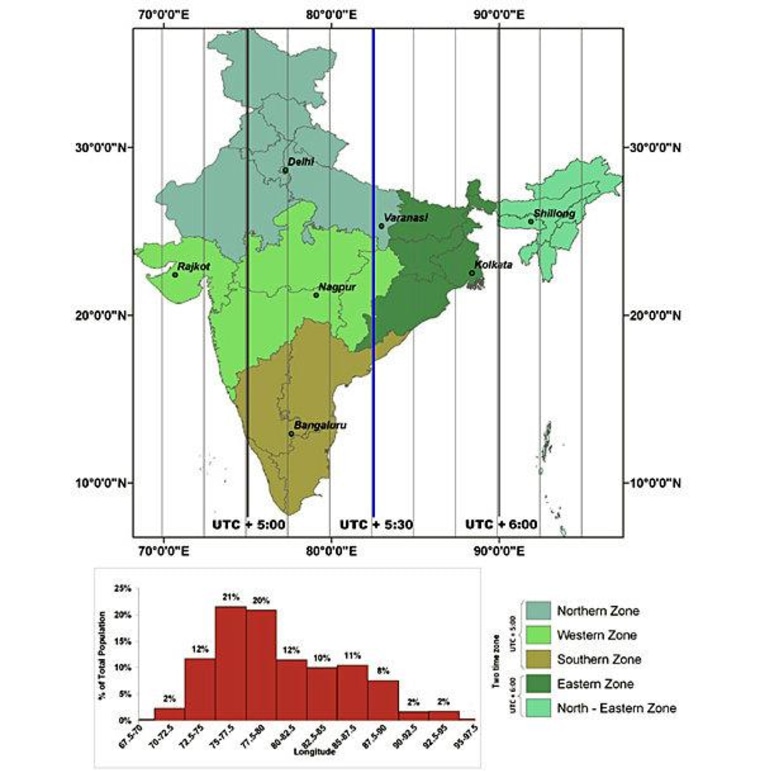 The idea was to see if instituting some kind of daylight saving time might save India some energy. Apparently the results were not encouraging.
Lastly, for pure map porn, here's a "gridded population cartograpm" of India: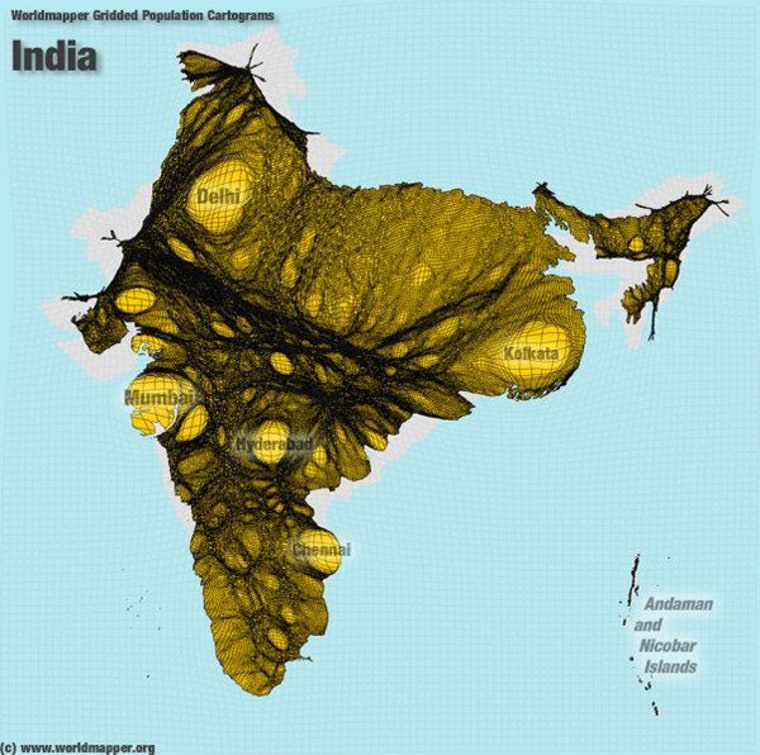 From this really cool collection by Worldmapper.