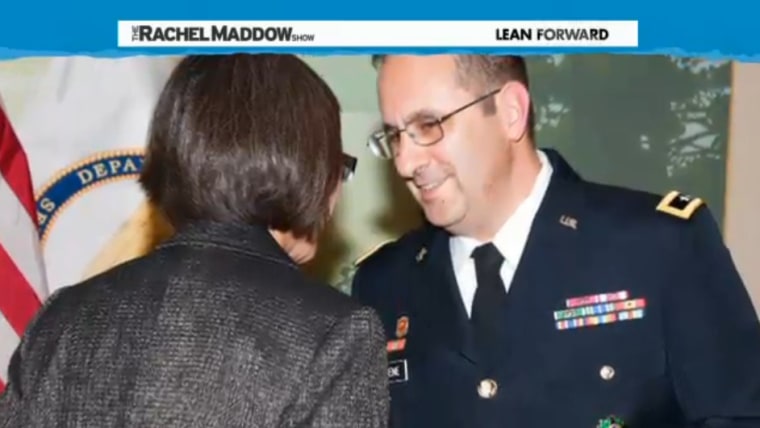 Greene is the highest ranking military officer to be killed in combat abroad since 1970, during the Vietnam War. There was no warning of the violence, and the victims included British, German, and Afghan personnel. The gunman was killed soon after in return fire.
In an unusually callous display, Fox News' Steve Doocy thought this morning would be a good time to suggest President Obama
deserves the blame
for the violence and Greene's death.
DOOCY: Remember when our president declared the war in Afghanistan over? (Video of Obama three months ago): "The bottom line is, it's time to turn the page on more than a decade in which so much of our foreign policy was focused on the wars in Afghanistan and Iraq." DOOCY: Really? Well now it looks like the terrorists heard him loud and clearly. An attack. The victim: a U.S. Army general. What this says about President Obama's foreign policy, straight ahead.
I find it difficult to fathom why anyone would choose to think this way. It's even harder to understand why someone would share such ugliness with a national television audience.
Consider the argument: President Obama announced that two of the longest wars in American history would come to an end. According to this Fox News host, a terrorist heard the comments, "loud and clearly," and decided to start shooting people at an Afghan military academy.
Does Doocy, or any other Republican for that matter, seriously believe that if Obama had committed to an indefinite war in Afghanistan, attacks like these wouldn't happen? The way to prevent violent deaths in Afghanistan is for Obama to declare a war without end?
Of course, classless rhetoric isn't the only reaction to yesterday's tragic incident.
House Speaker John Boehner (R-Ohio)
issued a statement
yesterday arguing that the shooting that killed a general should cause a reevaluation of U.S. policy in Afghanistan.
"What happened today is not only a personal tragedy, but a setback that demands leaders in Washington and Kabul take time to assess the state of our shared campaign and the necessary steps forward," the Ohio Republican said. "The Taliban's recent campaign of high-profile attacks is calculated to accompany a global PR strategy highlighting the fact that U.S. and coalition forces will soon be leaving Afghanistan and abandoning its weak and ineffective government. The Taliban wants everyone to know it will soon dominate all aspects of life in Afghanistan once again. "I have told the President privately and publicly that my biggest concern is that America will end its mission in Afghanistan just short of the goal line. After my visit there in May, I warned that if we did not demonstrate a determination to finish the job, we would be looking at a reversal of progress similar to what we have seen in Iraq. The national security interests of our country are too high, and too much sacrifice has been made to watch that happen. So let me reiterate: if the President decides to re-think his strategy, including withdrawals, deadlines, and policy restraints, particularly on certain associated terrorist networks, he will have my support."
What Boehner didn't say is how an indefinite war in Afghanistan will help prevent deadly violence. Or what our withdrawal policy had to do with yesterday's shooting. Or how many more Americans would be expected to make the ultimate sacrifice in an open-ended conflict, extending a war that's already lasted nearly 13 years. Or how the House Speaker would intend to pay for this indefinite war.
Apparently, we're just supposed to connect the dots in a way that Boehner likes: if an Afghan gunman shoots at least 15 people at a military school, then the United States military should remain in Afghanistan.