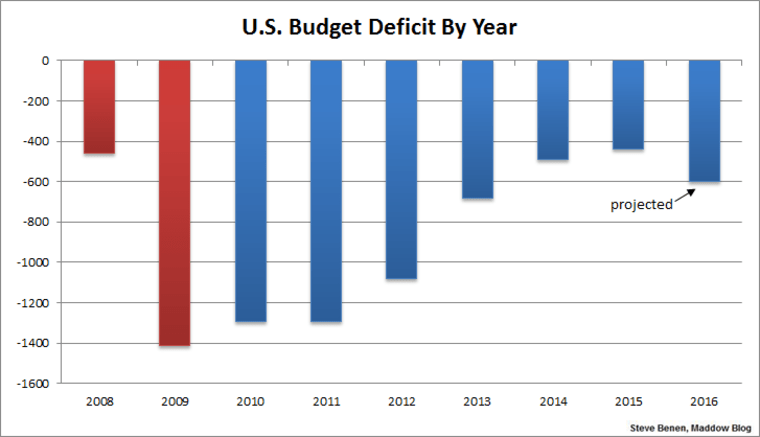 Take, for example,
this piece
today from the conservative
Washington Times
. The article is pretty straightforward, but the headline is plainly wrong: "Budget deficit nearly doubles during Obama years."
The White House predicted Friday that the federal government's budget deficit for the current fiscal year will hit $600 billion, an increase of $162 billion over last year's and a final sour note on President Obama's watch. While the figure was expected, the increase represents a reversal from previous years, in which budget deficits had steadily declined from the massive $1.4 trillion annual deficit early in Mr. Obama's first term during the recession.
Readers might have noticed the gap between the article and the headline: in Obama's first year, the deficit was $1.4 trillion; in his last year, it's projected to be $600 billion. In what universe does that mean the deficit has "nearly doubled" during the president's tenure?
I realize we're dealing with enormous numbers here, but the arithmetic is pretty simple: from the president's first year in office through the most recent fiscal year, the deficit in the Obama era
shrunk by $1 trillion
. Most Americans have no idea this happened, but it's nevertheless the fastest deficit reduction we've seen in the post WWII era.
Yes, the deficit is now projected to increase this year for the first time since this president took office, but it will still be less than half the size of the deficit Obama started with. As the Washington Times should know, "cut in half" and "nearly doubled" aren't the same thing. They're practically opposites.
To
reiterate
a point that bears repeating, I don't necessarily consider this sharp reduction in the deficit to be good news. If it were up to me, federal officials would be borrowing more, not less, taking advantage of low interest rates, investing heavily in infrastructure and economic development, creating millions of jobs, and leaving deficit reduction for another day.
That said, if we're going to have a fiscal debate, it should at least be rooted in reality, not silly misconceptions. And the reality is, conservative complaints about fiscal recklessness and irresponsibility in the Obama era is quantifiably ridiculous.
Postscript
: For those Americans who are worried about the deficit getting larger, Donald Trump's agenda
should be terrifying
.