It's been about four days since the Senate approved a bipartisan bill to extend federal unemployment benefits, and not only are House Republicans
refusing to move
on the legislation, they also seem
increasingly confused
about the debate itself.
Speaker John A. Boehner said Thursday it's up to the White House to make a new proposal before he'll consider an unemployment benefits extension, as the House left town for two weeks without acting on a bipartisan Senate bill. [...] Boehner said he had made it clear to the president in December that an unemployment insurance extension would "have to be paid for and would have to include things that would help get our economy moving."
Asked what it would take for Boehner to allow House members to vote on jobless aid, the Speaker said, "You'll have to ask the administration."
Sometimes it seems as if politicians aren't even speaking the same language anymore.
Look, there's no reason for Boehner to be this confused. For decades, there was bipartisan and bicameral support for extending jobless benefits during periods of high unemployment. This year, Republicans changed the rules of the game, making new demands that were considered ridiculous as recently as 2010, but Democrats nevertheless played along. It's why the Senate approved a bill that's paid for and, according to the non-partisan Congressional Budget Office, would create 200,000 jobs this year.
Boehner says that's not good enough. What would satisfy him? He either doesn't know or doesn't want to say -- the Speaker instead told reporters yesterday that the unemployed might get relief when the White House correctly guesses what might make Boehner happy. It's a policy debate with all the high-minded sophistication of kindergarten finger-painting.
Perhaps the Speaker needs a chart to help clarify matters.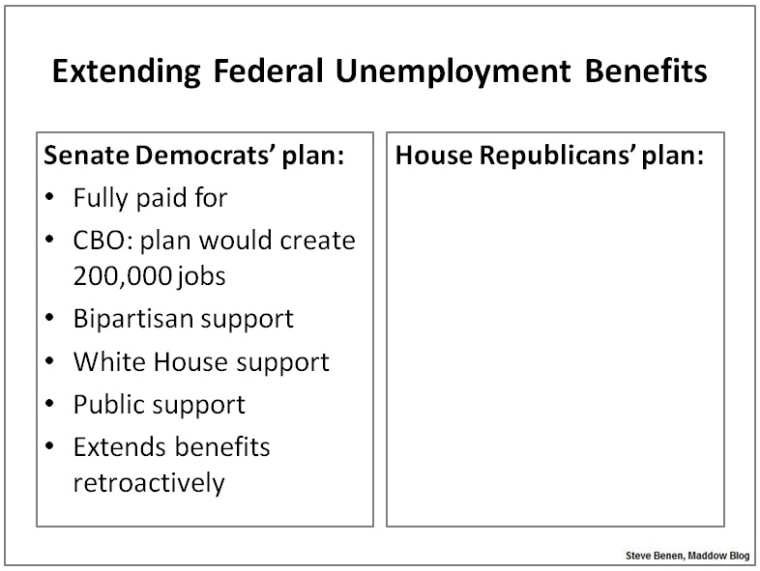 I put this together in the hopes of making the debate clearer for the House Republican leader. On the one side, we see the Senate Democratic plan, approved earlier this week with bipartisan support. It would appear to have all of the provisions officials would look for in a bill related to jobless aid.
Boehner says he prefers an alternative to this plan -- but he doesn't have an alternative. Rather, he wants the White House and Democrats to keep coming up with their own alternatives, and he'll let them know when he sees one he finds suitable.
Asked what such a plan might look like, Speaker says, "You'll have to ask the administration," as if the words themselves no longer have any real-world meaning to him.
It might be more amusing if there weren't 3 million struggling Americans who need this legislation to keep their heads above water.