Politicians recovering from a sex-scandal got the Ezra Klein treatment Monday night: lots of charts and lots of numbers.
Klein, editor of Washington Post's Wonkblog, challenged himself to make political sex scandals--a seemingly regular top news item lately--boring. Giving himself a two-minute countdown as guest host of The Rachel Maddow Show Monday, Klein got down to the numbers.
Political figures on both sides of the aisle like Mark Sanford, Newt Gingrich, and Bill Clinton all staged public rebounds years after admitting to infidelity. Sanford won South Carolina's District 1 Congressional race. Gingrich lasted longer than some expected in 2012's Republican presidential primary. Clinton's approval ratings are higher than ever.
In a year when other former scandal-plagued politicians like Anthony Weiner and Eliot Spitzer are attempting comebacks, Klein dug into a few recent peer-reviewed studies that aim to explain how long it takes the public to forgive a politician for a scandal, particularly a sex scandal.
The Social Science Quarterly released a study last month that measured how voters respond to members of Congress who suffered through scandals. They looked at how electoral margins changed for these candidates in the years following the scandal's break.
The study looked at U.S. House races involving incumbents between 1972 and 2006. To be a "scandal," what the member was accused of had to be referred to the House Ethics Committee.
They found that incumbent members of Congress won their race for re-election 86.5% of the time, but in races where they were accused in a scandal, members only won 48.9% of the time.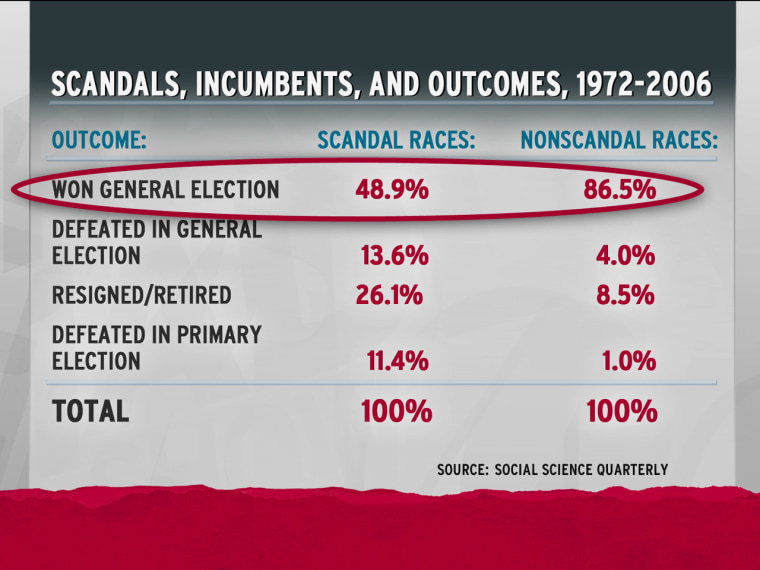 But if the member of Congress survives the first few years, their chances of approval got significantly better as time moved on. "If you're still around two years later, you're pretty much back to normal," said Klein. "And four years later, pretty much all of that damage is gone. You have recovered."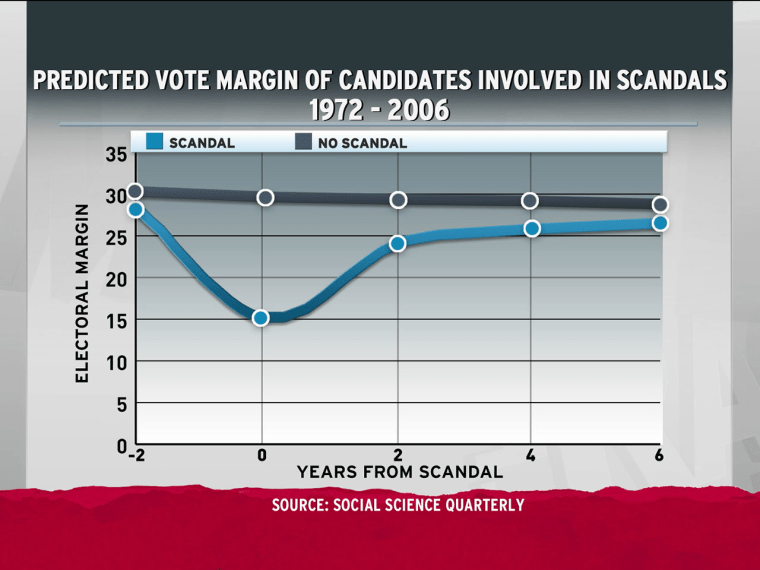 The results found that the scandal "lingered," but its electoral impact subsided over the following years. They wrote:
Using the literature on "brand crises" to frame our expectations, we offer the first systematic test of the hypothesis that the impact of scandal on an incumbent's electoral margin might "linger" beyond the election cycle in which the scandal occurred. We find evidence of this lingering effect and demonstrate that incumbents involved in scandals do not return to their scandal-free predicted margins of victory until four to six years after the scandal cycle.
While voters can forgive their leaders for involvement in a scandal, they're less likely to when it's a sex scandal.
Another paper from Lara M. Brown at California State University, Channel Islands, also measured how scandals affect a member of Congress' chances of reelection. They found that a scandal involving money took 6.68 points off the member's vote share. But a sex scandal, or a "morality scandal," reduced it by 9.24 points.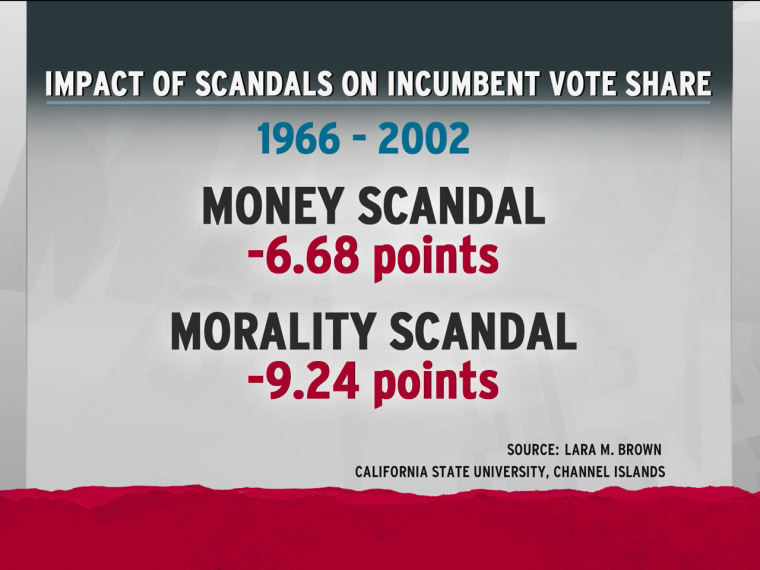 Weiner and Spitzer may not be running for re-election to their former posts, and they won't benefit from the security of partisan-drawn congressional districts like members of congress these studies enjoy. But sitting out the first election cycles since their scandal's "break" may help them try to dodge that first, significant dip.
Watch the full segment from The Rachel Maddow Show: