This week, the nonprofit organization The International Group for Historic Aircraft Recovery (TIGHAR) released a sonar image of what could be Amelia Earhart's long-lost Electra airplane. The image was taken off the coast of a rather remote island in the western Pacific Ocean called Nikumaroro.
TIGHAR executive director Ric Gillespie says they will need to raise $3 million to find out for sure, and they will not be able to get back to the island until next year. 
Last year, then-Secretary of State Hillary Clinton announced her support for TIGHAR and the quest to find Amelia Earhart's plane.
This was the reason TIGHAR was so jazzed about the project: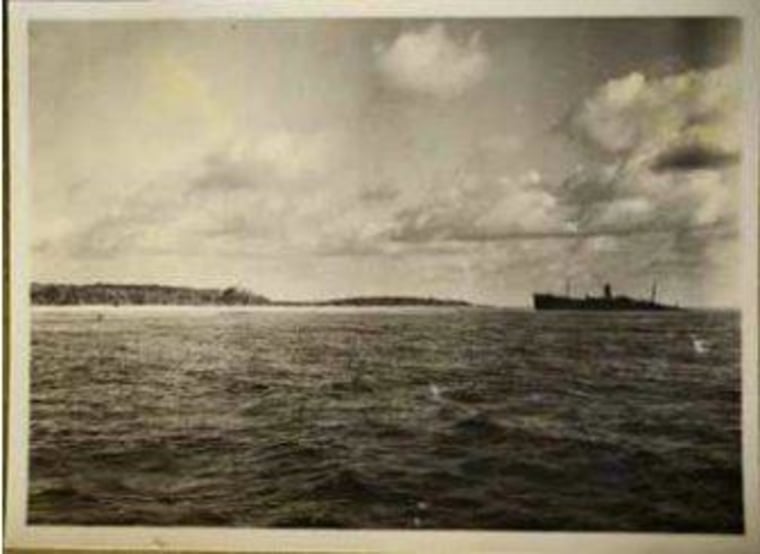 It is a photograph taken by naval officer Eric Bevington in October 1937, three months after Earhart and co-pilot Fred Noonan disappeared over the central Pacific Ocean. It depicts the SS Norwich City, which had been shipwrecked on a coral reef since 1929 off the coast of Nikumaroro (then called Gardner Island.) Parts of the shipwreck are still there! 
You can read more about the photograph's origins here (pdf) and here. TIGHAR investigators were initially interested in the wreck and anything Bevington might have noticed in the area of Gardner Island all those years ago. It was only in processing copies of Bevington's shipwreck photos after their meeting that they realized the photos might also contain a huge clue about Earhart's disappearance.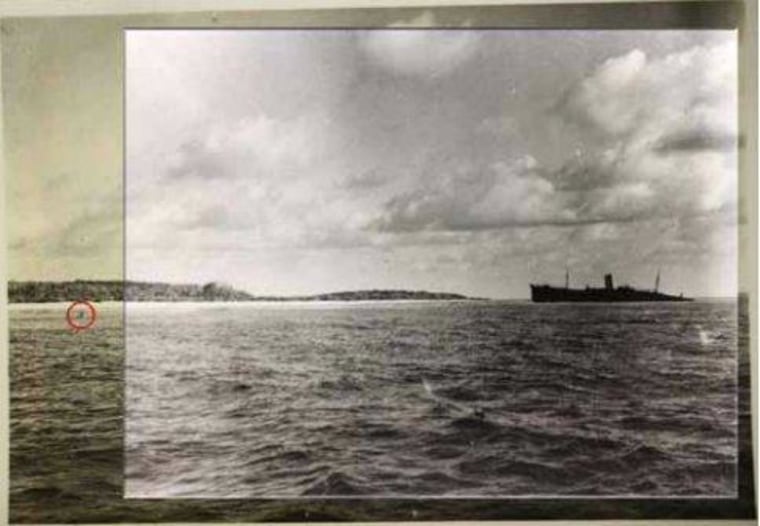 The big clue is not the shipwreck, it is that object circled in red, which researchers called "Nessie" and then the "Bevington Object." The theory is that the Bevington Object was actually the landing gear of Earhart's plane:
[MORE AFTER THE JUMP]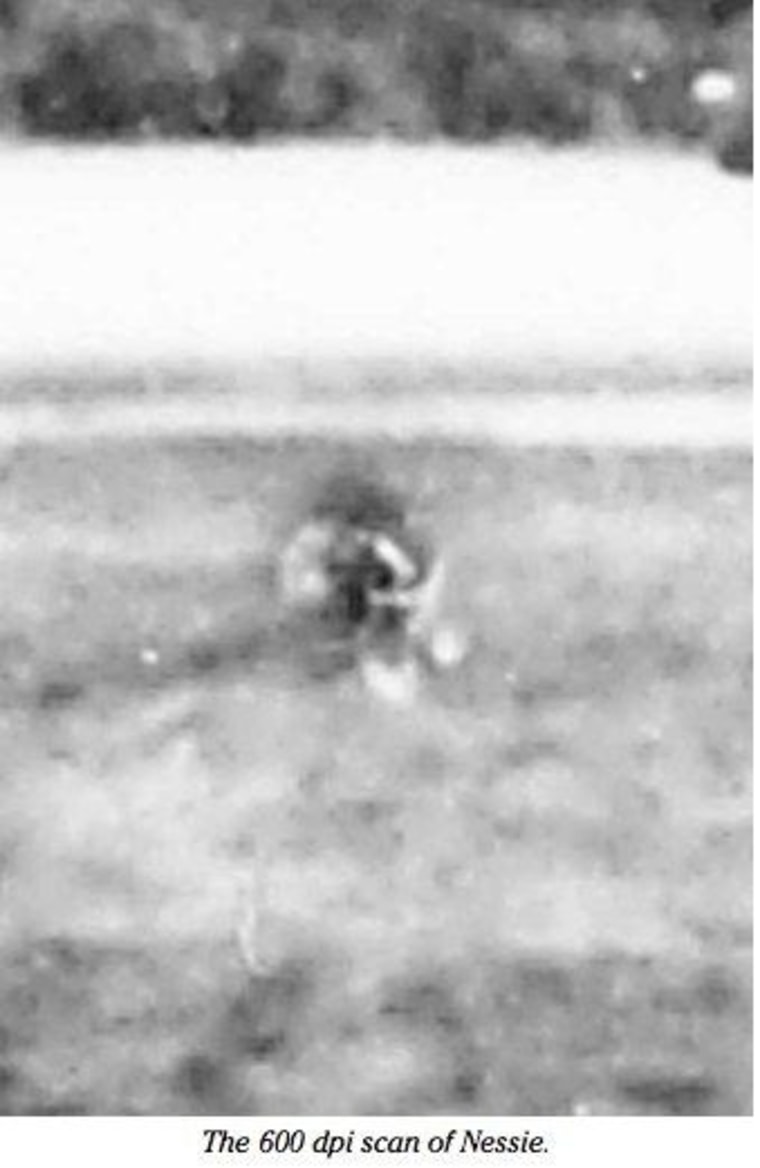 Birds-eye view: The red arrow shows where the possible Electra wreckage is, in conjunction with the locations of the 1937 Bevington Object and the SS Norwich City.
The "debris field" most likely consists of man-made debris not related to the SS Norwich City, but maybe related to the Bevington Object.  
The "anomaly" is the purported Electra wreckage: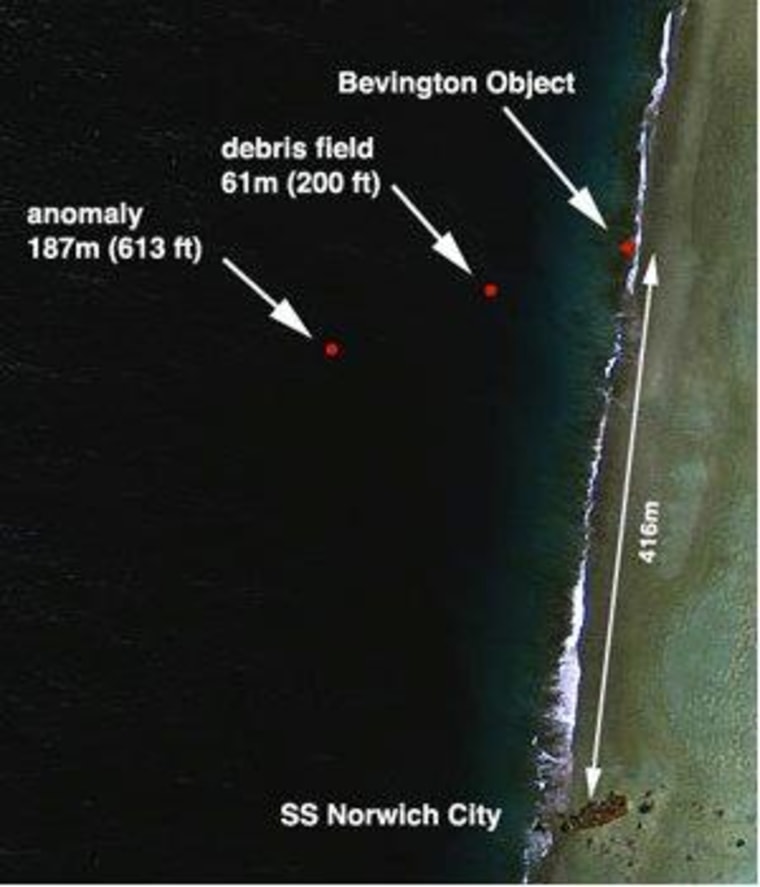 Amelia Earhart was a trailblazer. She literally trailblazed the Atlantic Ocean as the first woman to fly solo across it. And she helped pave the way for the feminist movement in other ways. She laid down the law in her prenuptial agreement, emphasized that marriage was a "partnership" with "dual control" and she spoke out in favor of women's equality in the workplace. 
Her legacy is just as important, if not more important, than the story of her disappearance - which remains a mystery. 
TIGHAR may have found Amelia Earhart's plane. Or they may have just found more debris from ships long gone. Only time, money and more research will tell. But Secretary Hillary Clinton probably put it best in March 2012:
"Even if you do not find what you seek, there is great honor and possibility in the search itself ... so, like our lost heroine, you will all carry our hopes."