In Newark, the nightmare of losing your home is very real.  According to NJ Communities United, almost 1 in 4 mortgage-holders in New Jersey are underwater – they owe more money than their home is now worth. And in Newark alone, there have been almost 7,000 foreclosures between 2008 and 2012.
On a chilly Saturday morning in Newark, New Jersey, a group of about 45 people gathered together in a small conference room not far from Newark-Penn Station. NJ Communities United, a progressive, grassroots advocacy group that focuses on low and moderate-income communities, operates out of the office upstairs. You might spot members of NJ Communities United in demonstrations across the state or in Washington, D.C. protesting for education or immigration reform. Signs and posters from these protests adorn the walls.
But that morning, the focus was on another issue facing residents of New Jersey's largest city. As participants began to trickle in at 10 a.m., they exchanged hugs and handshakes and helped themselves to a little breakfast – in preparation for a weekend-long seminar called the Housing Justice Academy.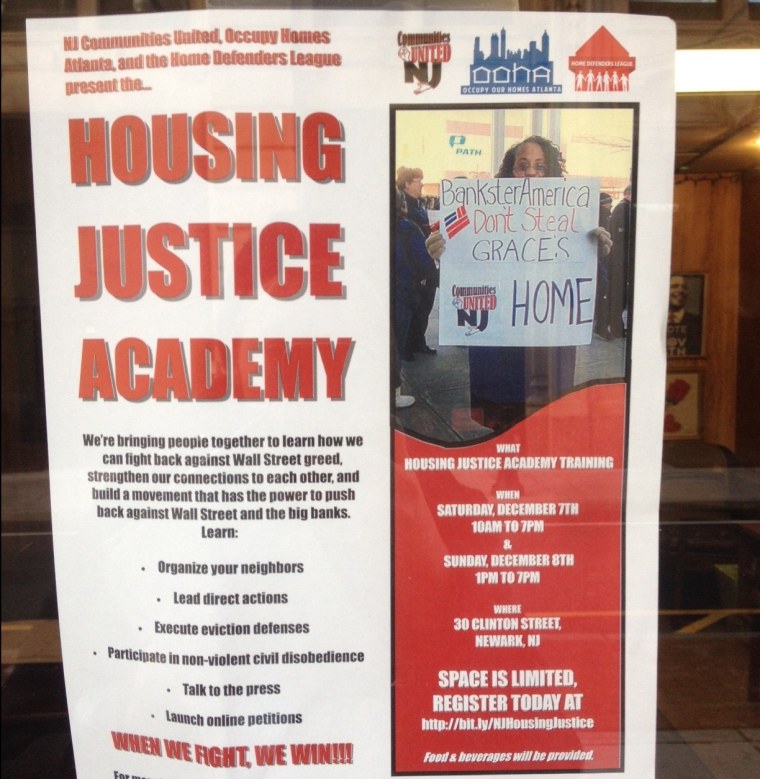 Tim Franzen, an organizer from Occupy Our Homes Atlanta, hopes to replicate some of the success he's had in Atlanta in other cities affected by the housing crisis, including Newark.
"Folks come to our weekly meeting in Atlanta. And sometimes people that are homeless will come, sometimes folks that have been evicted and want to get back in their house. And if they agree to do a public campaign, we'll then canvas their community, mobilize folks, march them back into their homes, and then oftentimes we'll do a sit-in at the bank the next day, and we'll do this every day until you start working with the person to make a deal to keep them in their home. And this strategy has been very successful; we win almost every fight we start. "
Some of the weekend's activities included tips on how to motivate and organize within a neighborhood, plus a seminar on how to incorporate artwork into protests, nonviolent direct action training, and a lesson in how to effectively set-up an eviction blockade. The group conducted a mock home defense, by building lockboxes with PCP pipes and organizing a hassle line. 
"It's very rare that we have to use eviction blockades, but we win with the threat of them," Franzen explains. "And we are willing to do them, and we have done them. I've gone to jail seven times myself, protecting a house… in the past couple of years." And when the banks know that a group is willing to set up a blockade, they usually try to stop it from happening entirely by reaching a deal with the homeowner.
But the first item on the agenda that Saturday morning: story-telling. Each participant in the Newark Housing Justice Academy was tasked with sharing their personal stories of hardship.    
"We are homeowners, and we've been going through this since 2010," Theresa Hamilton told me. "And we're here because … we want to save our home. There was a long time we felt weak, we felt there was nothing out there for us."
"As we speak today," says Yolanda Andrews, "someone came to serve papers for my house for foreclosure - my husband called me. But I told him, don't worry. Because I know that's my house, and now that I know what I know, it isn't going to be that easy to take what's rightfully mine."
Grace Alexander recently joined a group of protesters outside a bank in nearby Jersey City. "I wish [the banks] could wear our shoes for one day. If they could be in our situation so they can see how it feels…they don't know how it is, how hard it is, how frustrating it is. You work for so hard they're just out there, waiting to grab us and throw us out of our homes. I'm not going anywhere soon."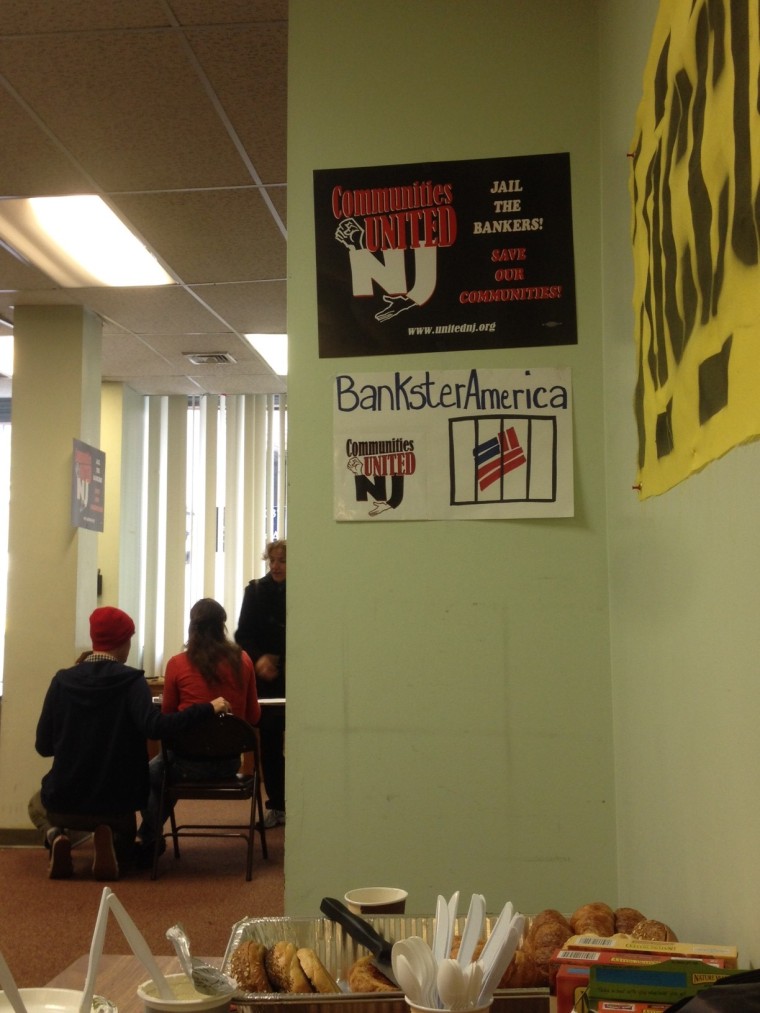 And now, she may receive some help from the city of Newark.
The Newark City Council agreed last week to consider a program where the city would intervene in cases of underwater mortgages. The city would seize the property using eminent domain to make market-value offers on the most toxic loans. This way, homeowners could keep their home and pay a lower amount for their loan principal.
This concept isn't unique to Newark – as Bloomberg notes, Richmond, California began looking into eminent domain as a possible fix earlier this year, as well as Irvington, New Jersey and Seattle, Washington. In response to Richmond's approval of the use of eminent domain, the Federal Housing Finance Agency, which oversees Fannie Mae and Freddie Mac, threatened to seek legal action against any municipality with plans to use eminent domain for mortgages.
The ACLU has since fired back with its own lawsuit. 
But SF Gate notes that the issue is now stirring a possible congressional response: 
In moves that could presage a congressional showdown, four U.S. senators last month wrote a strongly worded letter asking the administration to oppose mortgage seizures, while 10 U.S. representatives wrote letters supporting the plan.Eminent domain for mortgages could "scare off private capital, dry up new mortgage credit, and harm investors and taxpayers," said the opposition letter from senators Pat Toomey, R-Pa., John Boozman, R-Ark., Mark Begich, D-Alaska, and Heidi Heitkamp, D-N.D. "We are prepared to pursue a legislative solution."
Newark has its own legislative connection in newly elected junior senator Cory Booker, the former mayor of Newark. But whether he will weigh in on the issue of eminent domain is not clear. Mary Szacik, an organizer for NJ Communities United, considers the city council's approval of a plan to move forward with the idea a success, but has some concerns for how Congress will handle it.
"What's happening is there are some people in Congress and in the Senate who are saying that … it's an inappropriate use of eminent domain. And they're obstructing local municipalities' ability to solve this crisis. Our ask would be for [Sen. Booker] to not obstruct it – at the very least – and also to support it."
"I'm hoping, Booker, when you see this," Andrews says, "that you turn around and help the people that put you in that office. Because I was one that voted for you, so do the right thing by the people."
Occupy Our Homes hopes to bring more Housing Justice Academy seminars throughout the country. So far they've taught classes in Atlanta, Minneapolis, and now Newark. If all goes well, they hope to move on to Seattle and Las Vegas. In the meantime, NJ Communities United will continue to help people fight their foreclosures in Newark in whatever way they can.
"We have a few homeowners right now who are very much in the fight, and they're also very much at risk of a ... foreclosure, where the bank's going to take their home," Szacik explained on Saturday. "So I want to make sure that we, as an organization, and the members we work with, are prepared to defend those homes. So I want to make sure we can organize an eviction defense for one or all the homeowners, or maybe even at some point, declare an eviction-free zone in certain neighborhoods and wards in Newark."
After the weekend was over, Szacik says that now she has a group of about 50 homeowners and activists ready and trained to organize and fight back against foreclosures, with a lot more tools at their disposal. 
"The one thing we have gained with being a part of this organization, besides knowing that we aren't alone in this issue -- which we thought we all were, we were ashamed," Hamilton says, "… we're learning that together, our voices make a difference. We are strong in unity."