The latest CNN poll of Republican voters found something we haven't seen in months: Donald Trump's GOP support going
down, not up
. As it turns out, CNN polled Democrats nationally and found something equally interesting: Hillary Clinton's support going
up, not down
.
Hillary Clinton's lead in the Democratic presidential primary race has grown -- and if Vice President Joe Biden decides to stay out of the race, her numbers would rise even higher, a new CNN/ORC poll shows. Clinton is backed by 42% of Democratic primary voters nationally, compared to 24% for Vermont Sen. Bernie Sanders, 22% for Biden and 1% for former Maryland Gov. Martin O'Malley. That's a marked improvement over an early September CNN/ORC poll that found Clinton leading Sanders, 37% to 27%, with Biden at 20%.
Looking back over the last four months, there had been a consistent trend: Clinton's top-line support among Democrats nationally had steadily gotten smaller, while Sanders' support had grown.
That is, until today's results were released. To appreciate the shift, consider this in chart form: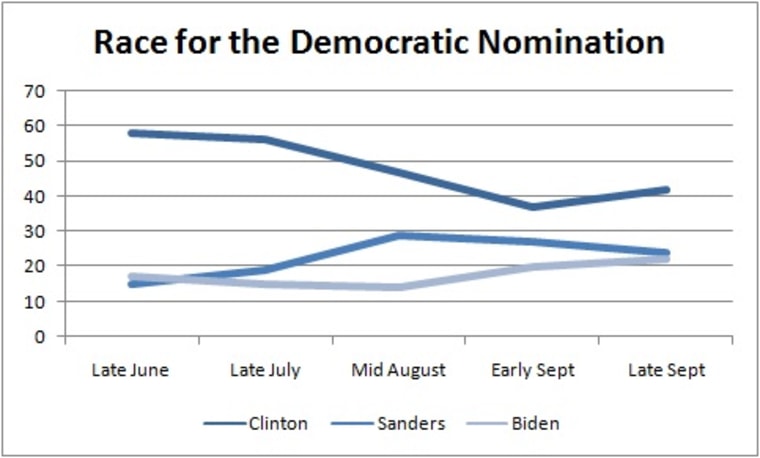 The
Washington Monthly
's Ed Kilgore
noted
 that for Clinton and her team, these results "must have felt like a break in an oppressive heat wave."
I don't doubt it. FiveThirtyEight's Nate Silver made a
compelling case
last week that Clinton is "stuck in a poll-deflating feedback loop," in which the national press hammers her for some perceived weakness, which causes her to lose public support, which leads to weaker poll numbers, which leads the national press to hammer her again. As that cycle repeats, it puts a candidate in an obviously tough position.
But at least one national poll suggests Clinton's trajectory isn't limited to one direction.