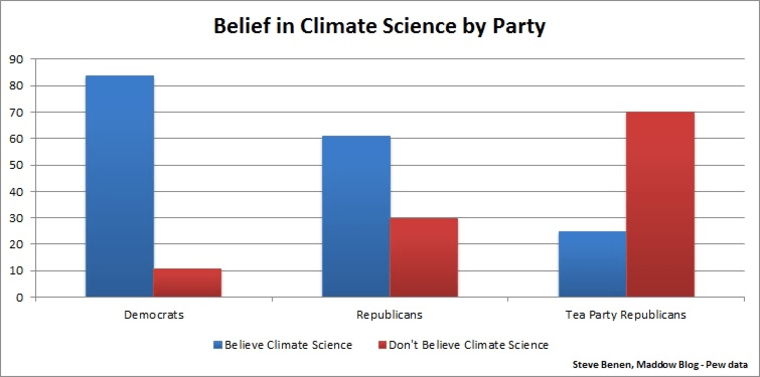 The fact that Democrats and Republicans in recent years have taken wildly divergent views on the value of science is not new, but it's worth appreciating the extent to which the divide actually cuts three ways, not two.
A
new report
from the Pew Research Center found that the divide within the Republican Party is much greater than the divide between the GOP and Democrats.
Two-thirds of Americans (67%) say there is solid evidence that the earth has been getting warmer over the last few decades, a figure that has changed little in the past few years. While partisan differences over climate change remain substantial, Republicans face greater internal divisions over this issue than do Democrats. Just 25% of Tea Party Republicans say there is solid evidence of global warming, compared with 61% of non-Tea Party Republicans.
On the surface, Republicans are evenly divided between denialists and those who understand that there's overwhelming evidence confirming global warming. Indeed, in the Pew report, it's 46% to 46%.
But the real division kicks in when we consider the GOP by faction -- most mainstream Republicans actually accept the science, while Tea Partiers reject the science by a nearly three-to-one margin. Within the Tea Party faction, just 9% -- 9%! -- believe that the planet is warming, mainly due to human activity.
Among Democrats, there are some divisions, but they're educational, not ideological -- 86% of Dems with college degrees accept global warming, while 57% of less-educated Dems agree. Among Republicans, there is almost no differences by education.
Overcoming such opposition is going to be tricky, but the climate crisis doesn't much care either way whether people believe in it or not.