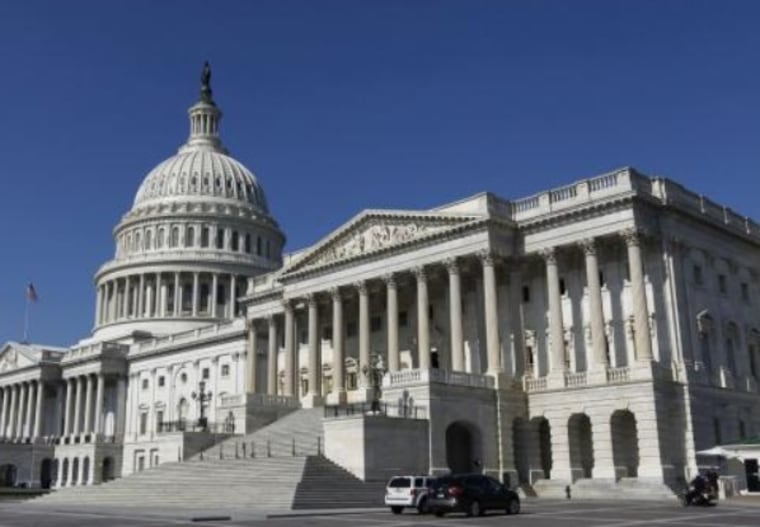 It was nice while it lasted.
Today, after a brief respite in the confirmation wars, Senate Republicans re-embraced
mindless obstructionism
again. In fact, they did so twice.
Senate Republicans on Thursday blocked Rep. Mel Watt's nomination to serve as one of the nation's top housing regulators. The Senate voted 56-42 to end debate on Watt's (D-N.C.) nomination to lead the Federal Housing Finance Agency (FHFA), but 60 votes were needed to overcome a Republican filibuster.
Republicans didn't have any specific objections to Watt, but since they preferred the current official at FHFA, GOP senators refused to allow the chamber to vote on Watt's nomination. It's the first time
in 170 years
in which a sitting member of the House lost a confirmation vote in the Senate.
Shortly after blocking a qualified African-American man, Senate Republicans then blocked
a qualified woman
.
Senate Republicans blocked Democrats attempt to vote on whether to confirm Patricia Millett as a U.S. Circuit Judge for the D.C. Circuit, renewing Democratic conversations of possible rule changes. On Thursday, the Senate voted 55-38 against ending debate on her nomination. Democrats needed at least 60 votes to overcome the Republican filibuster.
Again, Republicans had no substantive objections to Millett whatsoever, but simply don't want President Obama to fill any of the D.C. Circuit vacancies with anyone.
It's against this backdrop that Sen. Rand Paul (R-Ky.) intends to block a vote on Janet Yellen's nomination to lead the Federal Reserve, and Sens. Lindsey Graham (R-S.C.) and John McCain (R-Ariz.) intend to block all confirmation votes altogether until someone pays attention to their Benghazi conspiracy theories.
Or put another way, Republican obstructionism has once again gotten completely out of control -- there is simply no precedent in American history for tactics like what we're seeing today -- and if Democrats aren't considering drastic measures, I'd be very surprised.
The status quo, as evidenced today, is a madness. It's plainly unsustainable.