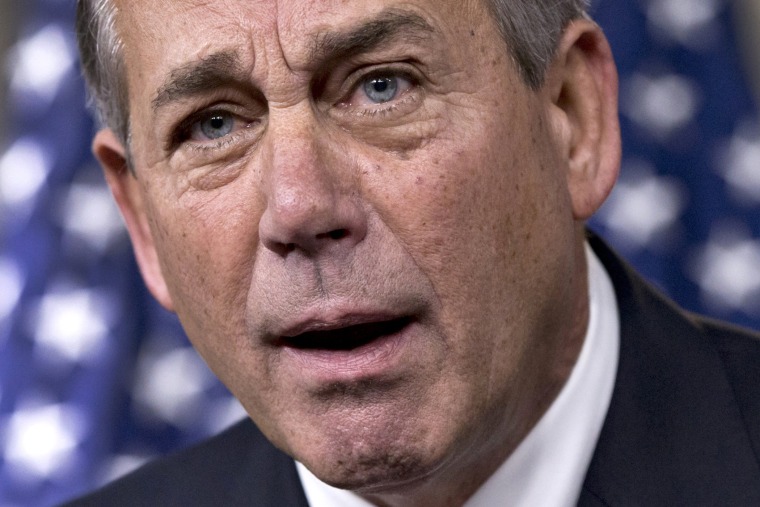 As a substantive matter, the "Boehner Rule" was largely gibberish and was not rooted in any sound policy rationale. Indeed, even the Speaker himself couldn't explain how he came up with the "rule" or why it was necessary. Boehner simply thought it sounded nice and he expected federal policymakers to play along -- and in 2011, afraid of how far Republicans might go, everyone did.
House Speaker John A. Boehner scrambled to sell a new debt-ceiling solution to his Republican colleagues on Wednesday, encouraging them to demand a restoration of recently cut military benefits in exchange for a one-year extension of the federal government's borrowing authority. Though Boehner (R-Ohio) did not formally endorse the idea as his own, he did ask his lieutenants to test it among rank-and-file ­Republicans.
Consider the implications of this trial balloon: the top  Republican lawmaker on Capitol Hill is now effectively prepared to tell the White House, "As a condition for raising the debt ceiling, we're asking Democrats to increase spending."
So long, Boehner Rule. Hello, increased social-welfare investments.
In fairness, this fallback approach was hardly the Speaker's first choice. The original plan was to write a ransom note demanding either the Keystone XL pipeline or the elimination of risk corridors in the Affordable Care Act. (The latter, ironically, would add $8 billion to the deficit.)
Democrats weren't going to pay the ransom anyway, but yesterday, it became a moot point when House GOP lawmakers said they
didn't like
either option.
This leaves Boehner and his leadership team in an exceedingly awkward position -- find a resolution that ensures passage of a debt-ceiling increase, pick up votes from House Democrats, and prevent the House GOP caucus from splintering further.
For the Speaker, that means pushing for spending increases, which Boehner thinks a sizable number of Republicans might go for, since it's spending on veterans.
The easiest and most sensible course -- simply authorizing the government to pay its own bills, without any hostage demands -- is the one avenue Boehner is most reluctant to consider, despite his many votes on clean debt-ceiling bills throughout his career.
Regardless, the larger context is striking. With the deficit falling at a fast clip, and Tea Party orthodoxy badly damaged by last fall's pointless government shutdown, House Republican leaders have decided pushing for more government spending, not less, is the solution to their problems.
For their part, Democrats may balk at this, too, not because of the merits of military benefits, but because it's dangerous to play any games at all with the full faith and credit of the United States. If Congress were to take up a separate spending bill on restoring recently cut military benefits, it seems likely such a measure would garner broad support.