On Sunday, the NYTimes included one of the famous "meandering Mississippi" maps in a story on the historic floods the middle of the country (aka the Mississippi's alluvial valley) is facing. The map shows the history of a portion of the Mississippi River's shifting course, and is part of an amazing and beautiful set from Harold Fisk's 1944 Geological Investigation of the Alluvial Valley of the Lower Mississippi River report for the U.S. Army Corps of Engineers. The report and the maps are available for free from the Corps site but do note the HUGE file size before you click. The map above is linked to a version at the original dimensions (but only around 8MB so it's safe to click) to give you a sense of how impressive these maps are. If you'd like to download the originals, you want the "plates" links on the Corps site, not the report itself. But if you just want to see a sample, the blog Pruned has uploaded several of them including this crazy version of them all stitched together. (The first person to send in a photo of this tattooed from shoulder to ankle gets a free TRMS hat.)
After the jump, NASA takes us back in time...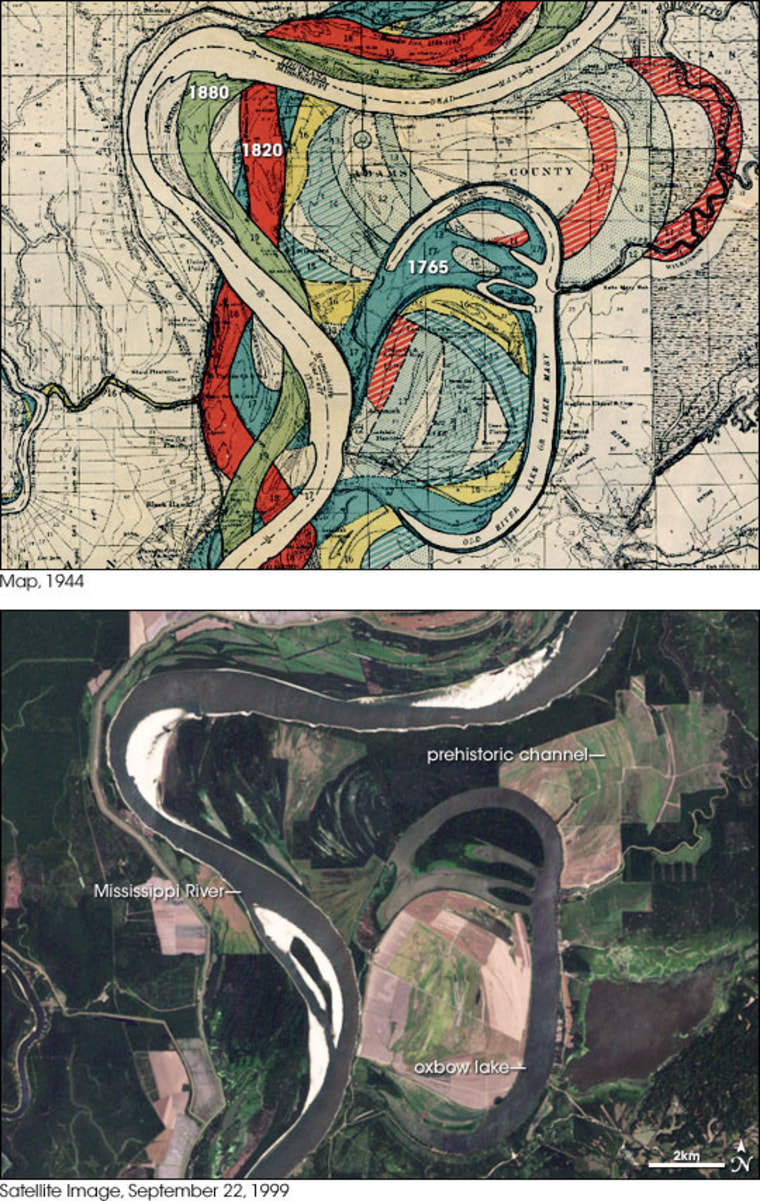 From NASA:
This map of an area just north of the Atchafalaya River shows a slice of the complex history of the Mississippi. The modern river course is superimposed on channels from 1880 (green), 1820 (red), and 1765 (blue). Even earlier, prehistoric channels underlie the more recent patterns. An oxbow lake—a crescent of water left behind when a meander (bend in the river) closes itself off—remains from 1785. A satellite image from 1999 shows the current course of the river and the old oxbow lake. Despite modern human-made changes to the landscape, traces of the past remain, with roads and fields following the contours of past channels.
What I hadn't realized before seeing this comparison is how literally the landscape still reflects the history depicted in the maps.
More from Strange Maps.