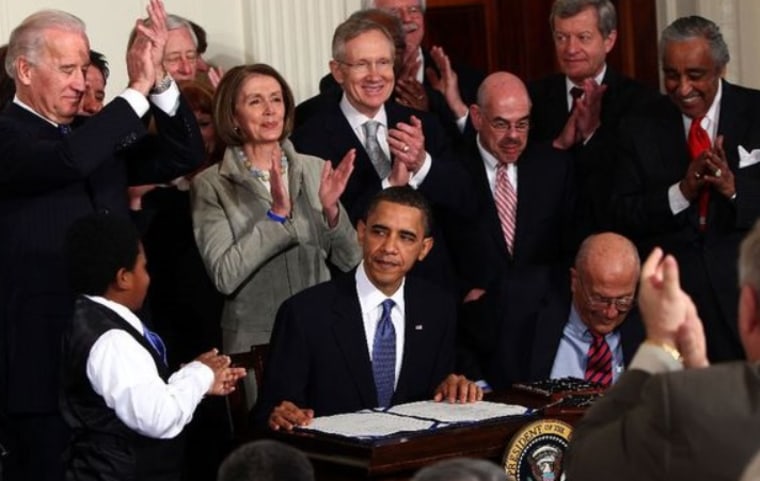 Given the basic facts, this is the sort of tantrum that gives the political discourse a bad name.
First, we're not talking about Americans who are suddenly being dropped from the insurance rolls. Rather, this is a period in which insurers are scrapping old, awful coverage plans and replacing them with
better insurance
-- which for millions of Americans, will be subsidized through the law. Even if we look past the nuances involving grandfathered plans, consumers will be in
a more secure position
, so the notion that this is some sort of scandal is ridiculous.
Second, we knew all of this years ago. Some journalists seem to have stumbled upon this a few days ago as if it were new -- you mean the White House knew folks with lousy plans would be transitioned to better ones? -- but for those who paid even cursory attention to the process in 2010 and 2011, this is quite literally old news.
And finally, there's just something extraordinary about listening to far-right lawmakers complain bitterly about consumers losing health care coverage. I'm genuinely amazed so many political reporters are so invested in the story.
Republicans have repeatedly endorsed proposals that would take insurance away from many more Americans -- and leave them much, much worse off.
This isn't complicated. The House Republican budget plan, as designed by Paul Ryan, seeks to take health care coverage away from a minimum of 14 million Americans. GOP lawmakers also hope to prevent Medicaid expansion under "Obamacare," which would deny insurance to as many as 17 million people. And the larger effort to repeal the Affordable Care Act, of course, would wreak havoc on the coverage plans of millions more.
As Cohn concluded, "Honest Republicans ... should stop pretending that it's possible to address the problems of American health care without disrupting at least some people's insurance arrangements -- because, after all, they want to do the very same thing."