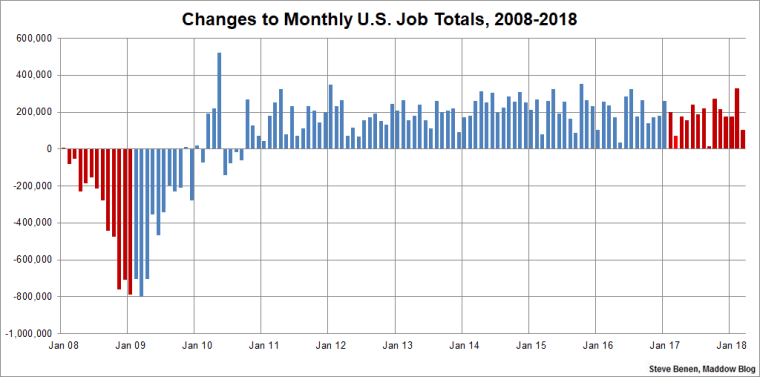 Headed into this morning, economic forecasters said they expected another strong jobs report today. That's not quite what happened.
The Bureau of Labor Statistics reported today that the economy added 103,000 jobs in March, while the unemployment rate held steady at 4.1% for the sixth consecutive month. In both cases, forecasts projected better progress, making today's report disappointing.
Making matters slightly worse, the revisions for the two previous months -- January and February -- point to a combined loss of 50,000 jobs as compared to previous BLS reports.
As a rule, I'd recommend against over-interpreting any one report. February's totals, for example, were still excellent, and we'd need a lot more evidence before drawing any conclusions about a cooling job market. That said, Donald Trump and the White House have been running around telling people that 2018 was shaping up to be the strongest year for jobs "in more than two decades." As of this morning, the first quarter of 2018 was the best for job creation since the first quarter of ... 2015.
Above you'll find the chart I run every month, showing monthly changes in total jobs since the start of the Great Recession. The image makes a distinction: red columns point to monthly changes under the Bush and Trump administrations, while blue columns point to monthly job changes under the Obama administration.
Update: Here's another chart, this one showing monthly job losses/gains in just the private sector since the start of the Great Recession.