Former New York Gov. George Pataki announced he is ending his 2016 presidential campaign in a message to GOP voters that aired on NBC News affiliates in the early primary states of New Hampshire, Iowa and South Carolina. "While tonight is the end of my journey for the White House as I suspend my campaign for president, I am confident we can elect the right person," Pataki said.
There's no real point in scrutinizing Pataki's failure too closely, since most Americans, even those following the presidential race with passive interest, probably forgot he was running. The former governor had no support in the polls, no meaningful campaign operation, and very little money. His departure from the stage will have no impact on the overall race.
What is important, however, is to consider Pataki's difficulties as a candidate in the broader context. It's easy to forget, but on paper, he 
looked like
 a very credible contender: Pataki is a former mayor, a former state lawmaker, and the former three-term governor of one of the nation's largest states. In a crowded field, few could boast of this kind of resume.
But in 2016, experienced candidates with real qualifications for national office are doomed.
Following up on a point we've been 
kicking around
 for months, I put together 
this chart
 in October showing the years of experience in government for the original field of 17 Republican presidential candidates (before anyone had dropped out). I've updated it this morning with arrows pointing to the candidates who've quit.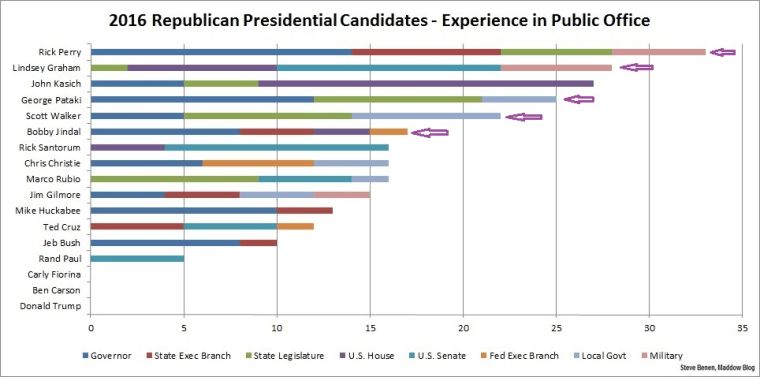 It's hard to miss the point: of the six most experienced candidates in the Republicans' 2016 field, five were forced from the race before a single vote was cast.
What's more, for all the talk about the GOP's "deep bench" of qualified governors, four of the five candidates who've quit -- Perry, Walker, Jindal, and Pataki -- are current or former governors.
We're looking at a political climate in which Republican voters just aren't impressed with qualifications for national office. Pataki never stood a chance.