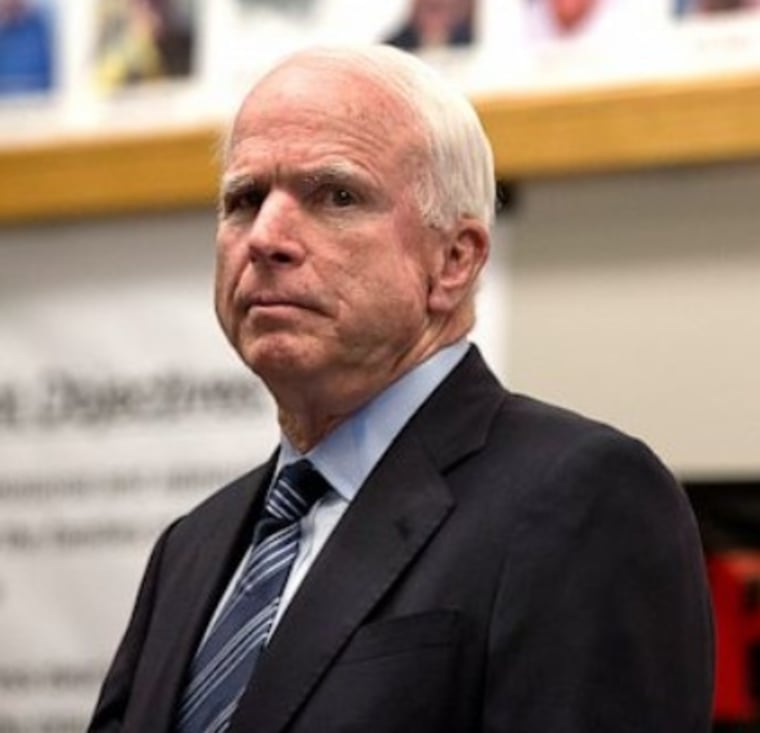 By all accounts, it should be quite close. ENDA, which seeks to prohibit workplace discrimination against LGBT Americans, has the support of all 55 members of the Senate Democratic caucus. If we include its two Republican co-sponsors -- Mark Kirk and Susan Collins -- the total reaches 57. With Orrin Hatch and Lisa Murkowski having already backed the bill in committee, that's 59.
So, who, if anyone, will be #60? Sen. Rob Portman (R-Ohio), who supports marriage equality and has an openly gay son, said a few days ago that he's
inclined
to vote for ENDA, though his endorsement wasn't ironclad. If Portman balks, however, keep an eye on the senior senator
from Arizona
.
Senator John McCain (R-Ariz.) expressed cautious support for the Employment Non-Discrimination Act (ENDA) currently nearing passage in the Senate. [...] He likened ENDA to the 1964 Civil Rights Act and its sometimes-controversial after-effects. "When we passed the Civil Rights Act, which was the right thing to do, there were a lot of unintended consequence that we had to fix over time, such as quotas, busing, and other aspects of the law," McCain said on Fusion TV's "America with Jorge Ramos" in an interview scheduled to air Thursday night. "I'm going to have to see, be sure, that religious-oriented organizations are not forced."
These references to busing are apparently a
standard part
of McCain's approach to ENDA -- I honestly haven't the foggiest idea why -- and it's not all clear what the "unintended consequences" could be to preventing anti-gay workplace discrimination.
That said, if McCain is now inclined to support the legislation, it's success seems even more likely than it did a few days ago.
As for the opposition, anti-gay forces in the religious right movement are, not surprisingly, pushing some rather strange arguments, but they've been joined by the pro-freedom Heritage Foundation, which
strongly believes
that protections against employment discrimination would
undermine
civil liberties.
No, I don't understand it, either.