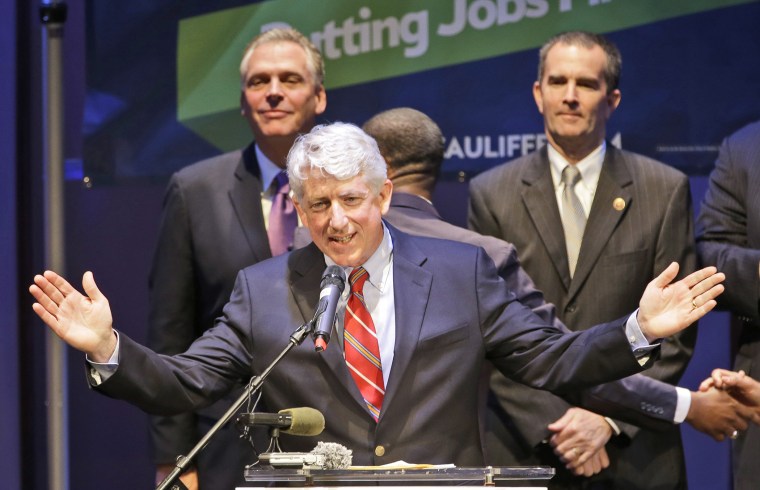 What a difference an election makes. Newly elected Gov. Terry McAuliffe (D) has already issued an executive order prohibiting discrimination against gay state employees, and as Jane Timm
noted
this morning, Cuccinelli's successor, state Attorney General Mark Herring (D), has announced that Virginia's gay-marriage ban is unconstitutional and his office will not defend it against federal lawsuits.
"After a thorough legal review of the matter, Attorney General Herring has concluded that Virginia's current ban is in violation of the U.S. constitution and he will not defend it," spokesman Michael Kelly wrote in a letter to the Associated Press. On Thursday morning, Herring -- a Democrat who campaigned on marriage equality -- will file a brief siding with the plaintiffs who have sought to overturn the ruling preventing them from marrying.
It's quite a transition. As Adam Serwer
added
, Virginians have gone from a state AG who tried to defend a ban on sodomy to a state AG who believes same-sex couples deserve equal treatment under the law.
This new announcement may not, however, be the final word on the matter.
The
Washington Post
highlighted
an interesting development that may soon follow Herring's announcement.
He has not informed Republicans in Richmond about his plans; an uproar is likely. GOP lawmakers have worried that Herring would change the state's position — such decisions are up to the attorney general -- and have contemplated legislation that would allow them to defend the law in court. The attorney general thinks that is unnecessary, the official said. The clerks of the circuit court in Norfolk and Prince William County are defendants in the suit, and both are represented by independent counsel. Janet Rainey, the state registrar of vital records, is also a defendant. Although she and Herring will urge the court to strike down the ban, she will continue to enforce it until the courts act.
It's worth noting for context that eight years ago, when Herring was a state lawmaker, he supported a ban on same-sex marriage. But the Virginia Democrat evolved in the ensuing years and, like much of the country, he's become more progressive on civil rights for gay and lesbian couples.
UPDATE: Related video: