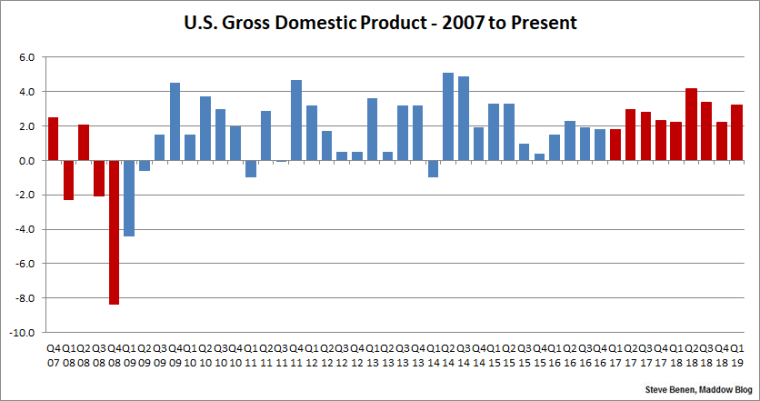 Economic growth in the latter half of 2018 gradually slid in the wrong direction, prompting fears of a possible economic downturn. Those concerns are a lot quieter this morning.
Reports of the demise of the U.S. economy proved unfounded as first quarter activity showed surprising strength. The U.S. economy expanded at a 3.2% annual pace in the first three months of 2019, the government said Friday.The gain was well above forecasts. Economists polled by MarketWatch had forecast a 2.3% increase in gross domestic product.... One unexpected factor behind the acceleration in GDP growth in the first quarter was a sharp upturn in state and local government spending.
The full report from the Commerce Department is online here.
If recent history is any guide, Donald Trump and the White House will, any minute now, claim that GDP growth of 3.2% is even better than the 3% rate the Republican says was his goal, so it's worth remembering that this morning's report refers to quarterly growth -- January through March -- not annual growth. (Also, the president promised annual growth between 4% and 6%. Why he set expectations unreasonably high is still a mystery.)
What's more, this new figure will be revised in the coming months.
Regardless, there's no denying that 3.2% growth is the latest evidence of a healthy economy, and should bury talk of a looming recession, at least for a while.
As for the image above, the chart shows GDP numbers by quarter since the Great Recession began. The red columns show the economy under the Bush and Trump administrations; the blue columns show the economy under the Obama administration.