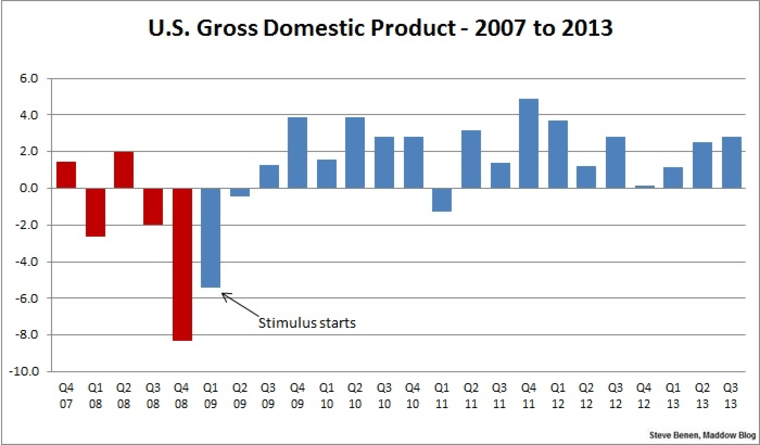 The U.S. economy in the third quarter -- covering July, August, and September -- fared
better than expected
according to the newly released figures, but there are some relevant caveats to keep in mind.
The U.S. expanded by a 2.8% annual pace in the third quarter, the biggest increase in a year and a half, aided by a large buildup in business inventories and an improved trade picture, the government said Thursday. Economists polled by MarketWatch had forecast 2.3% growth.
So, good news, right? On the surface, yes -- those hoping for a stronger economy want to see the GDP number going up, not down. This number will be revised twice in the coming months, but growth at 2.8% isn't bad, especially considering how horrible the economy was in the recent past.
But the closer one looks at the data, the less heartening the results appear. Consumer spending, for example, which is arguably the most important metric, dropped a little. So did business investment and government spending, all of which prevented growth from being more robust.
The main difference was business inventories, which jumped unexpectedly, and boosted the overall total. It's not that inventory accumulation is a bad thing, it's just that this is a temporary blip, not evidence of an improved, self-sustaining economic recovery.
What's more, this GDP report does not include economic data from October -- which means it doesn't reflect the damage congressional Republicans did to the economy by shutting down the federal government for three weeks and threatening a sovereign debt crisis. In other words, third-quarter GDP offered some modest signs of improvement, but Republican lawmakers have already taken steps to ensure the next report will be worse.
As for the image above, the chart shows GDP numbers by quarter since the Great Recession began. The red columns show the economy under the Bush administration; the blue columns show the economy under the Obama administration.