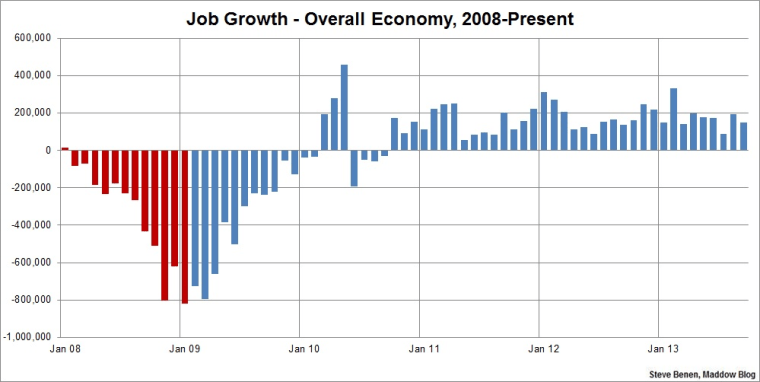 Nevertheless, as Nelson Schwartz noted earlier, this report "
will be closely watched
," in part to see if there's any evidence of progress in the job market, and in part because this is the last jobs report to cover the period before congressional Republicans shut down the government and sparked a new debt-ceiling crisis.
So, how'd we do? Not especially well. The
new report
from the Bureau of Labor Statistics shows the U.S. economy added 148,000 jobs in September, below modest expectations. After years of public-sector layoffs serving as a drag on the overall economy, we're starting to see a slight turnaround -- the private sector added 126,000 jobs last month, while the public sector added 22,000 jobs. That may seem like a fairly modest number, but it's the most in recent memory.
The overall unemployment rate dropped to 7.2%, which is the lowest it's been since November 2008.
The revisions were a mixed bag: July totals were revised down from 104,000 to 89,000, while August's totals were revised up from 169,000 to 193,000. Combined, that's a 9,000-job increase, though August's figure will still be revised once more.
All told, so far in calendar year 2013, the economy has added 1.6 jobs.
Above you'll find the chart I run every month, showing monthly job losses since the start of the Great Recession. The image makes a distinction -- red columns point to monthly job totals under the Bush administration, while blue columns point to job totals under the Obama administration.
Update: Here's another chart, this one showing monthly job losses/gains in just the private sector since the start of the Great Recession.